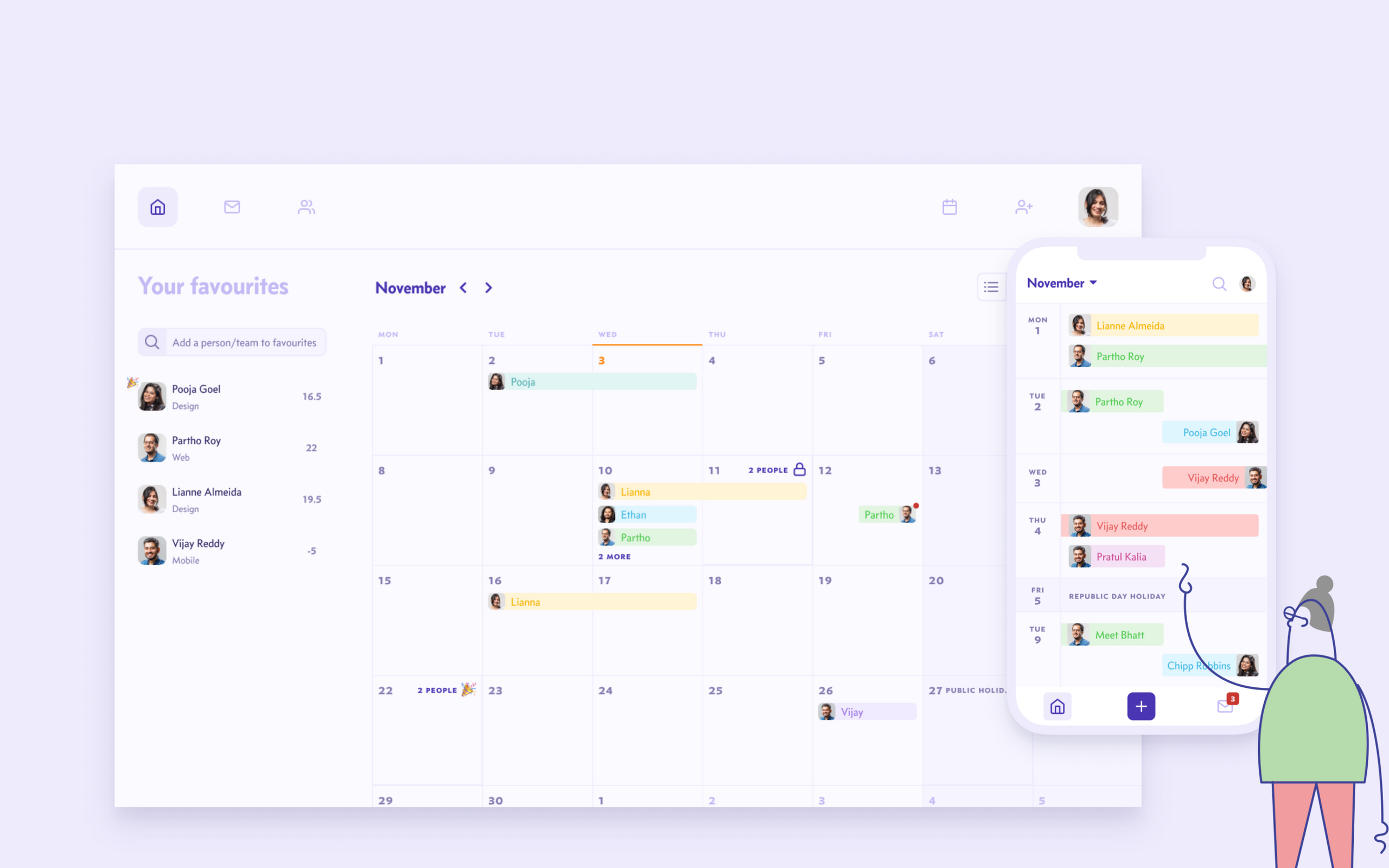 Put the team back in 'team planning'.
As we ideated for our first homegrown product, we discovered that the HR software domain was a highly-commoditised red ocean. Most tools came with multiple heavy features that small businesses with tight budgets didn't need but had to pay through the nose for.
Leave management systems, in particular, featured clunky and transactional tracking workflows that sent information only in one direction: employee to employer. Alternatives like spreadsheets and email chains saved costs but sunk time and, again, isolated information from colleagues who needed it to plan better.
With this in mind, we began to look at leave management as a communication and transparency problem rather than just an indicator of availability. We saw that other organisations were thinking along the same lines but couldn't find the ideal solution.

That's when we decided to build Pause, a thin-slice tool that would resolve the information catch-22 and be easy on small businesses' pockets.
Harnessing insights and streamlining flows for an intuitive product experience without switching tools

Shaping and deploying a solid and relatable narrative to maintain a cohesive brand experience across touchpoints

Making marketing decisions and building a support system to populate the sales funnel and retain and convert users
Harnessing insights to build features and streamlining flows for a smooth, intuitive product
To build an easy-to-use product targeted at small businesses, we conducted user interviews with startup founders and HR leads and researched how time-off policies were designed. We also used our experience as product makers and users to explore features and policy creation gaps across products.
Pause was designed to be usable on the browser, mobile devices, and Slack. We focused primarily on three touchpoints: the leave application and approval flows, onboarding flows, and personal profiles.
Our first goal was to provide complete transparency in the leave application and approval flow. Notifications went to managers for approval; calendar and Gantt chart views showed teammates who have taken time off. Leave balances were clearly defined, conflicting leave schedules were surfaced, and information was pushed only and always when needed.
The onboarding flow was made short yet comprehensive enough for new users to bring in existing leave policies or create new ones. Keeping the "less but better" principle in mind, we prioritised critical steps to get users to basic functionality quickly. Guidance at each stage ensured this was a self-serve experience that retained users and reduced drop-offs.
The personal profiles section gave users all data they could need: leave balance, past time-off record, or types of leave. We provided employee-level functionality for some features — including changing profile photos and updating work anniversaries — to continue the self-serve experience.
Enabling users to do what they need without switching tools
When organisations use many tools to solve one problem, workflows become disjointed and opaque. We resolved this by giving users the ability to access all the information they needed about time off in their central tool for planning and workplace communication: Slack.
The Pause Slack integration evolved from a user-to-web app bridge to a standalone feature that mimicked all core functionalities of the app. Information was dispersed periodically and in the proper settings, ensuring both the team and the individual saw what was relevant to them. The Slack integration quickly became one of our most competitive features, being obvious, transparent, and delightful.
Shaping and deploying a solid and relatable narrative
We wanted Pause to be perceived as transparent, employee-first, and encouraging of time off. That tied in with speaking to our intended audience: new-age entrepreneurs and HR professionals who were most likely looking for fresh alternatives to existing software.
Instead of using a formal and bland tone typical of corporate software, we crafted our tone of voice to be friendly, assertive and understanding. Leveraging empathy and personal experience helped us position Pause as an expert (and disruptor) in small business leave management.
Seeing as we were a small team with limited resources, our marketing website had to do the selling for us, especially if a potential user didn't have time for demo calls. A simple problem-solution-value structure in our copy allowed us to convey both what Pause does and how that helps the user.
Breaking away from couching language in second-order benefits helped keep copy grounded, clear and informative across all touchpoints.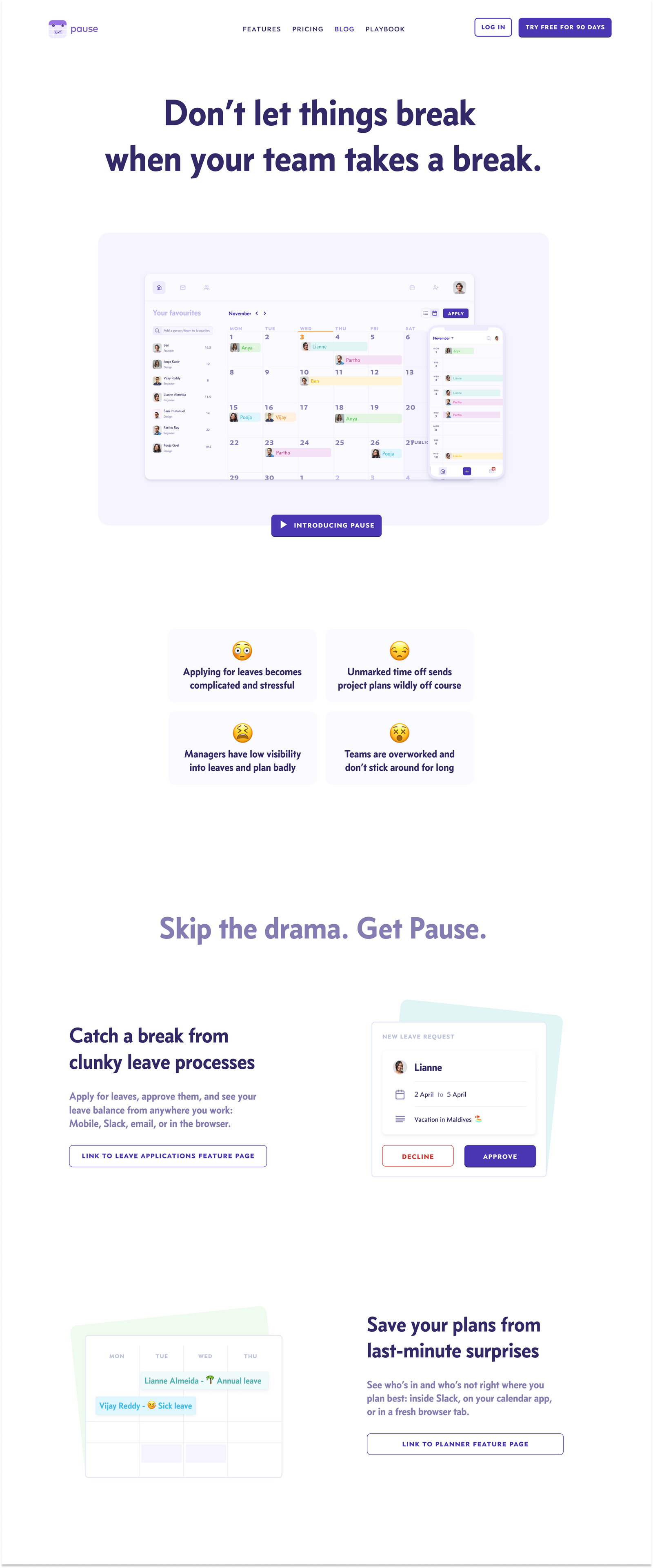 Making decisions that populate the sales funnel and increase search engine visibility
Being fully bootstrapped, it was imperative that our content and marketing strategy be cost-efficient and impactful. Our focus area was generating organic traffic through search engine visibility.
After researching search trends and identifying keywords that would form the nexus of our content strategy, we created a quarterly value-centric content calendar. We prioritised high-level pieces of content that linked out to in-depth articles on our website. Even today, this strategy brings us 60% of our organic customers.
To get Pause in front of customers consistently and over a long time, the engineering, design and marketing teams collaborated on low-effort, high-return micro-tools relevant to our core sell. These micro-tools continue to populate our sales funnel, increase our audience reach and keep Pause top of mind.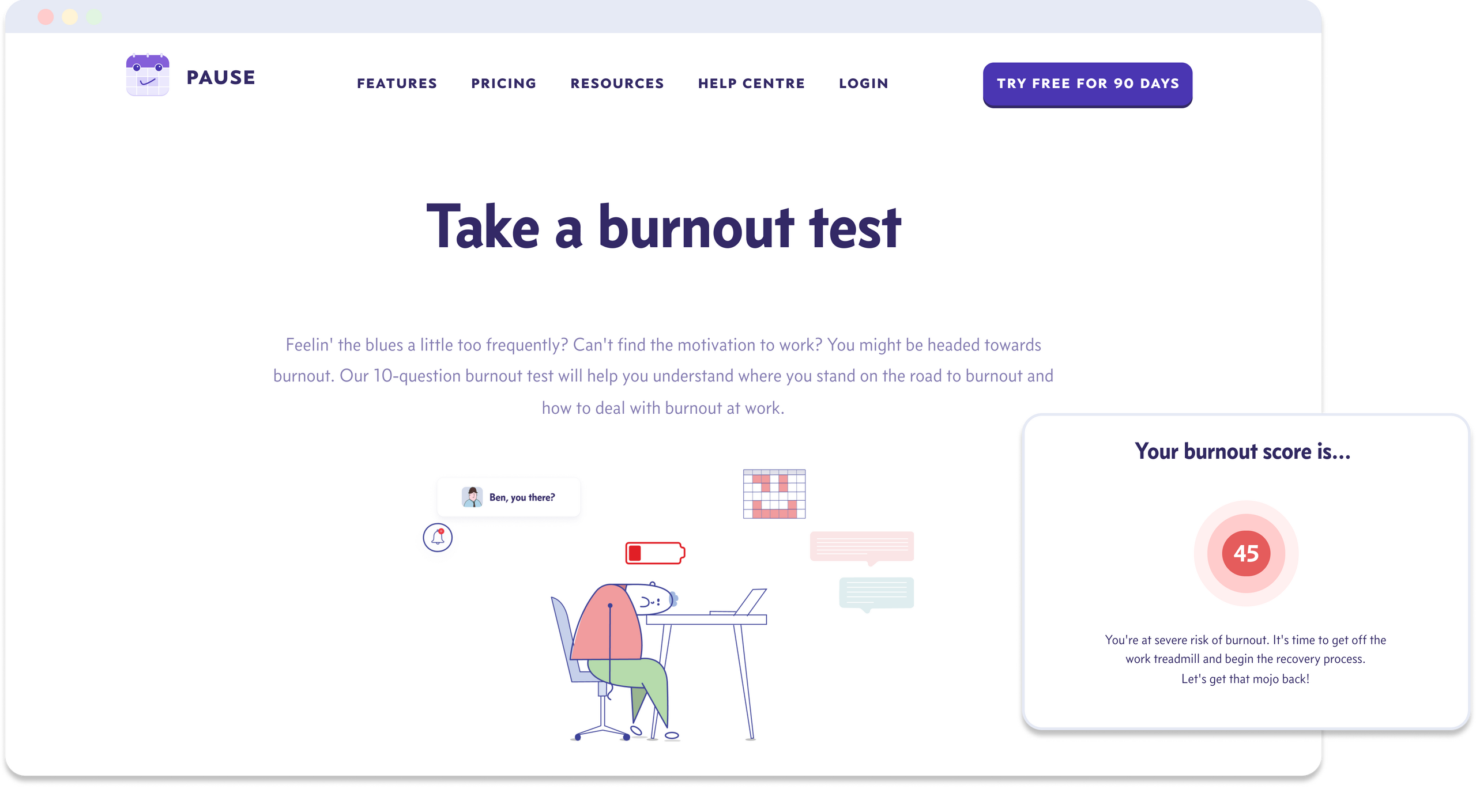 We then executed a global strategic launch of Pause on Product Hunt, a high-traffic platform that curates and shares new tech products, to tap into an international audience.
Since thousands of products launch every day, we invested design, graphics and communications efforts into a demo video that enticed visitors and detailed Pause's value proposition. We also enlisted a Product Hunter to promote Pause to their audience and drummed up interest through email and social media campaigns.
Our second challenge was to ensure the post-launch momentum didn't die down but tapered off into a steady influx of visitors. We did this by continuing the conversation on Product Hunt even after the launch and using content calendars and email drip campaigns to engage current and new leads.
Building a customer support system that enables, retains and converts users
Going against the standard advice that makers of inexpensive tools can't afford customer support systems, we reframed our perception of support as "training wheels for the product". We used Intercom to set up an extensive customer support chat system and user guide.
Aside from ensuring a better user experience, this system armed us with data about how Pause was being used. That enabled us to ask sharper questions and nudge users towards features that they weren't using but would get value out of. We gained a better sense of direction than preliminary user research in a simulated environment could provide and understood how we could make feature delivery and messaging clearer.
We also used Intercom chatbots and email drip campaigns to nudge users back onto Pause, especially if there was a long break between when they first demoed the product and when they booked time off. Timely check-ins refreshed their memory, send them helpful tips on even basic actions, and nudge them to take a break if they hadn't in a while.