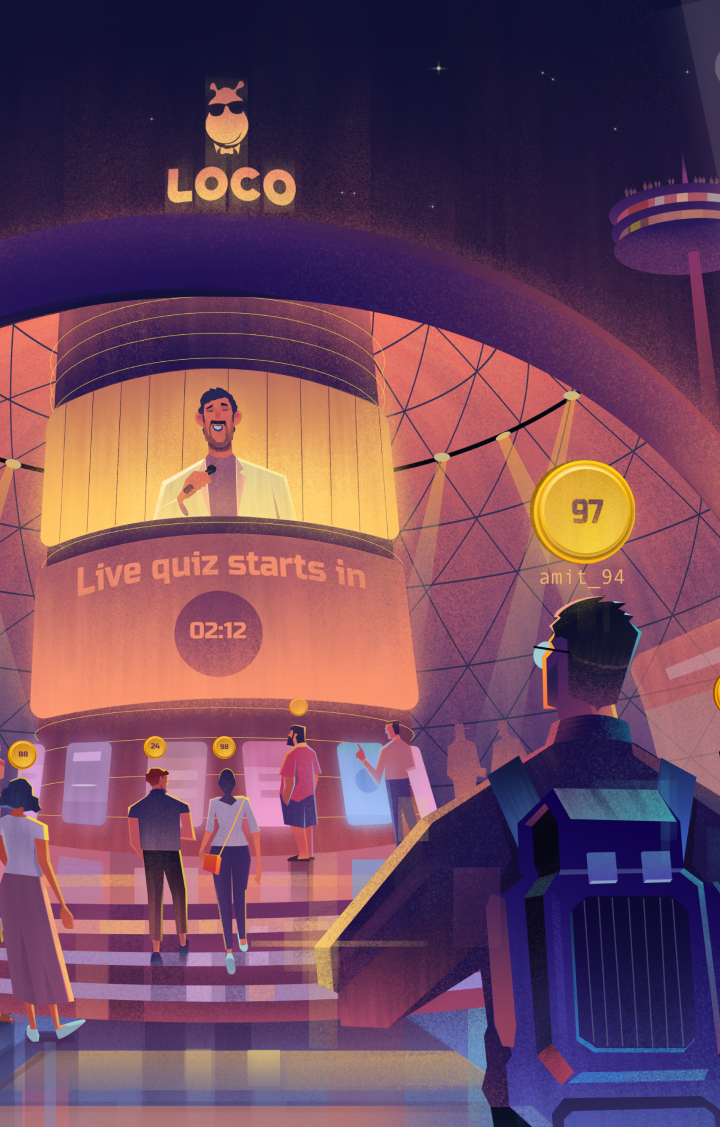 When we were approached by Pocket Aces to redesign the app that has ten million downloads, we went ahead in full steam. Don't you wish you could be paid for all the time you spend playing games on your phone? Sounds crazy?
That's Loco for you.


Crazy kiya re!
Loco is India's most popular interactive game. The game operates on a simple principle: you play, you earn. The app was released in the market in January 2018 with a quiz-based module. Thanks to its easy-to-follow approach that offered attractive incentives, it spread like wildfire with users. A majority of users of the app are from two-tier cities, towns, and rural areas: places where fast-speed internet and smartphones were, until recently, quite rare. The use of smartphones and the internet with this section of India has seen an increase of 16% in 2018.

The quiz in Loco has a simple navigation system. It runs in real-time and can only be played at scheduled intervals. The user has to answer each question within ten seconds to proceed to the next question for a chance at the greater prize pool. It's on finishing the ten questions during the scheduled quiz that they can win another reward. A wrong answer instantly eliminates the user.
So what did we need to change?
Loco was 'Designed by Dev' and was limited to three-screens. It gained an audience at breakneck speed and ran on the principle of engagement. The vision for the app expanded with Pocket Aces hoping to make it an entertainment platform. In the words of Viral Mehta, VP of Engineering at Pocket Aces, the app, designed as it was by developers, fell short on design.

In our first sprint in July 2018, we spoke to users of ages 20-35 who had either used the game before or continued to use it. We wanted to gain audience insights in order to identify our focus areas. Our questions ranged from how users interacted with the game to what they sought from using it. We identified disparities. Associated trivia bites in the quiz had limited relevance and users didn't see the quiz through to the end. The app had limited social sharing capabilities. We learnt that Loco had become a great conversation topic in the social circles of users. The Sprint showed us that we needed to make the app visually captivating so that it stuck permanently with audiences despite the planned changes that lay ahead.
Let's see how far we've come.

Our second Sprint a few weeks later focused on marking the progression of the gaming experience based on our previous insights. We identified crucial elements that needed to be addressed sharply: Home & Navigation, Gamification & Rewards, and Content & Engagement. Users were happy to engage with the app a little longer if they had clarity on how to earn coins (necessary for playing the quiz) or any other game that has a buy-in. We noticed that the lack of clear instructions within the game was confusing for the sampled audience. We still had a few issues that needed addressing like improving the leader board with a clear distinction between the friends' section. We also needed to focus on grey areas such as earning more lives and coins, making clear the concept of streaks and achievements, and boosting interest in engagement modules such as 'Hippo Gyaan' and 'Fun Facts'. However, what really worked here was the users' understanding of the rewards system and their engagement with peers on the modified app.

We went back to the drawing board to see how to make the game more immersive. Our first question was to ask what mood the game created. We narrowed down on the personality of the brand with an exciting discussion with Team Loco. Loco is fun, approachable, mysterious, iconic, and engaging, and most importantly, desi. We built a visual language reflecting a carnival. Think bold patterns, bright lettering, gaming arcade vibes, and of course, sound and lights.
Have we hit the jackpot?
The users for our final Sprint in September 2018 were between the ages of 18-26 and varied socio-economic backgrounds. We tested the new iteration on a static home screen, with a live quiz and card-sorting techniques. The group told us they enjoyed the game a lot more than before, especially thanks to the high contrast visuals and clear cue cards. We made the game as accessible as we could by using several Indian languages. The result was a more engaging and fun experience from the get-go and a game that gave users abundant opportunity to play and earn.