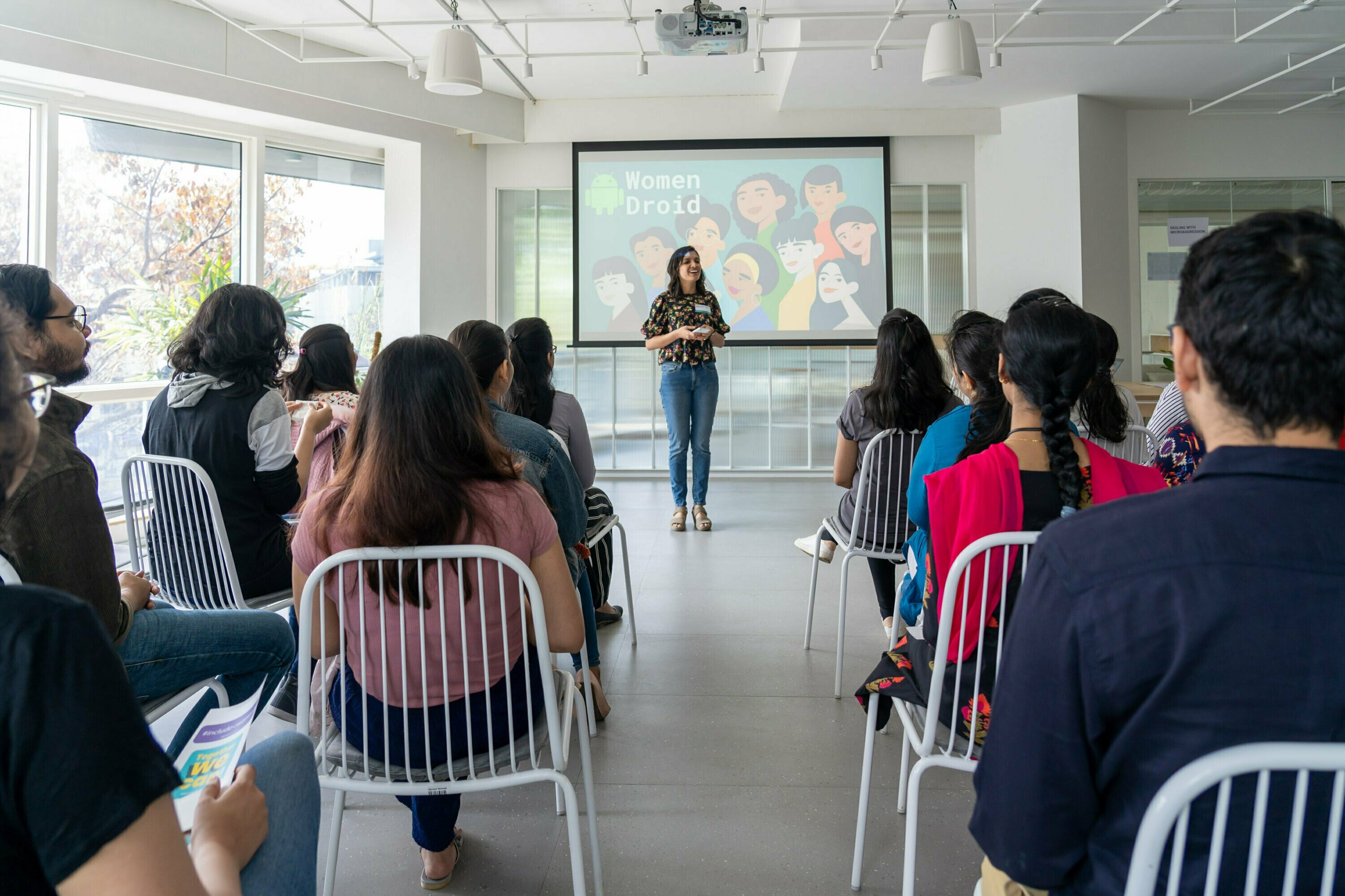 WomenDroid and Obvious have come together to host an event which will focus on building a healthy work culture for women in tech.
About this Event
Who are we?
WomenDroid is a community run meetup group for women in tech and especially in Android. The focus of the group is to provide a safe-space for women to talk about the challenges they face, specifically as a consequence of working in technology, and find solutions along with the right kind of support, within the group.
This time WomenDroid is collaborating with Obvious to host this meetup. It was a natural choice to co-host with Obvious considering their inclination towards building an inclusive and diverse workplace. They believe in walking the talk and you can read about their efforts in this direction.
What is the event about?
The focus of the meetup is to help women discover an environment of healthy work culture in tech. We are inviting two amazing women in tech who have years of experience at hand and have been directly involved in building tech teams.
Meet the speakers
Leena SN is the Co-founder/CTO @ Good Karma and a passionate programmer with 20 years of experience in tech. She is a strong believer of lean principles for delivering software and an evangelist and practitioner of Continuous delivery. Continuous Delivery helps to ensure that the software can be reliably released at any time helping the business to get faster feedback from the market.

Goda Ramkumar is one of the top minds in Data Science in India, having been ranked as one of "Top 10 Data Scientists in India" by Analytics India Magazine in 2018. She is currently driving the mission of making the startup ecosystem data-driven as General Manager, Data Science at xto10x. As Principal Data Scientist in Ola, for the last 2 years, she lead the machine learning and optimization algorithms behind pricing and matching. She worked at Sabre for 10 years before Ola on a variety of problems in Airline Pricing and Revenue Management. She holds an undergraduate and Masters degree from IIT Madras.
Agenda
10.30 - 10:45: Registrations
10:45 - 11: Introduction
11 - 11.30: Connecting the dots: Own your journey by Goda Ramkumar
11.30 - 12: The power of belief by Leena N
12 - 12.30: Snacks Break
12.30 - 1.30: Human Library dialogue on workplace culture
Event summary:
1. The power of belief by Leena N:
The major takeaways of the session are:
How to learn to ignore your inner voice which says - you are not good enough. The reality is that no one is an expert, and everyone is good at something.
Brief look into the key ingredients of building workplaces for growth:
Brief about Psychological Safety and Resiliency - how important these are to build an inclusive workplace, a place where everyone feels they are contributing and growing.
2. Connecting the dots: Own your journey by Goda Ramkumar
How each woman can own her journey based on the five realizations I have had over the years while connecting the dots.
3. Human Library dialogue : The Human Library® creates a safe space for dialog where topics are discussed openly between human books and their readers. We will have five such human books who will be experts in different areas of Workplace culture related topics. You can choose to be a part of any of these dialogues and be readers for that human book. Some of the topics are:
Actionable insights for navigating workplaces as a woman in tech
How to be a better ally? - Rahul Gosalves
What role can managers play in building a woman's career? - Pratul Kalia
Mindset required to build healthy workplaces for women
Who should register?
If you are a woman in tech and who would love to know how can we build more inclusive workplaces. Also if you are looking for role models then come say hi to our speakers. The event is open for only women but men are welcome as a +1 to a woman attendee.
If you wish to be a part of this event then please register and we will send you a confirmation a week before the event.
Please note that Obvious's code of conduct will be enforced throughout the event.