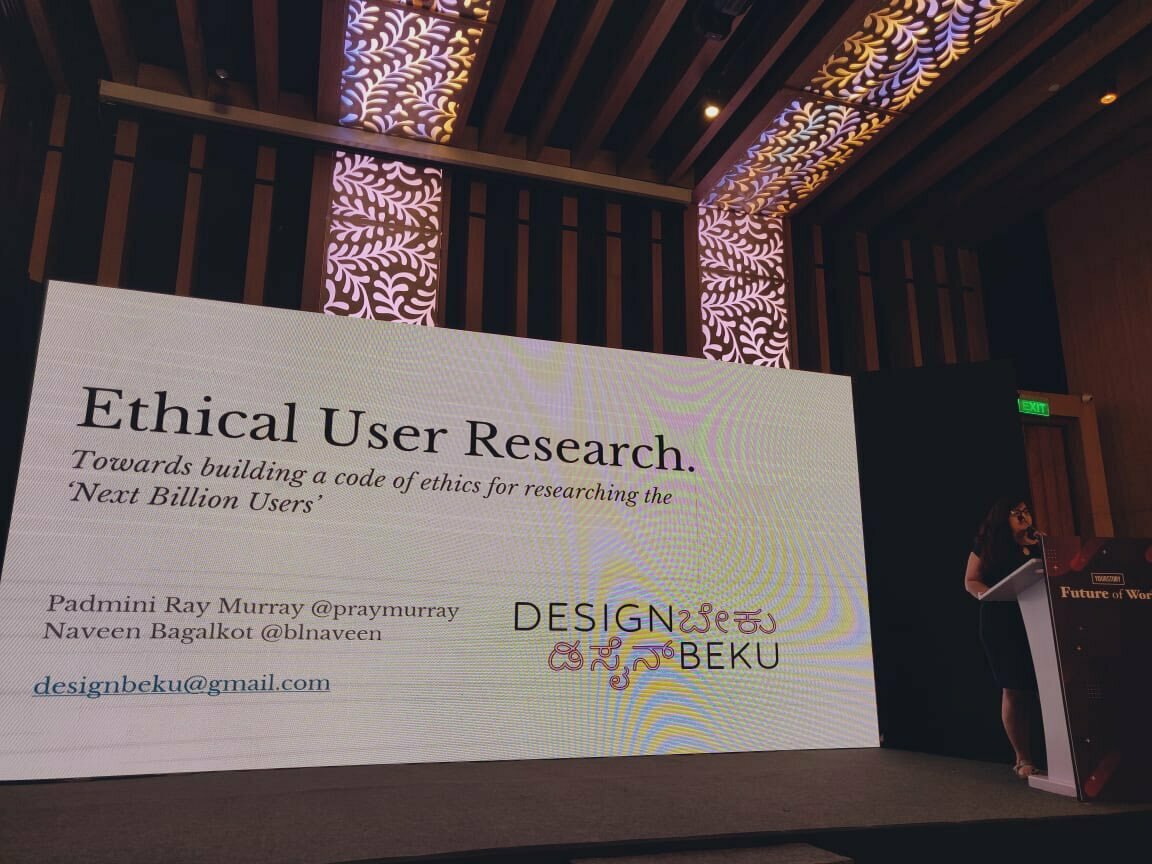 Commercial agencies and studios, especially those specialising in human-centred design, rely on user research as an invaluable part of their practice. However, unlike participatory research which, when conducted in academic contexts is necessarily governed by institutional ethics, industry-based user research traditionally has not been conducted in accordance with any explicitly defined ethical frameworks. This conversation is particularly vital in India as we consider the needs and practices of the demographic that is referred to as the "next billion users."
Dr Padmini Ray Murray (Head of Communications, Obvious) and Dr Naveen Bagalkot (Design Beku) will be running a workshop to explore and understand a range of ethical aspects of informed consent, full disclosure, privacy and data protection, sensitive information, etc., and formulate guidelines and frameworks so that we protect the people whom we claim to represent in the design process, namely, the current and future users, from unintended and unforeseeable harm.
This is the second workshop (the first was held at DesignUp 2019) in this ongoing series which will culminate in a platform to discuss and formulate a code of ethics for user research that is aimed at serving for-profit and not-for-profit enterprises. This workshop should be of particular interest to design and usability researchers, although we imagine the topics under discussion will be of interest to anyone who works in the space of designing for the NBU.
This three hour workshop is structured as follows:
Introduction to the goals and ambitions of the workshop - 10 Minutes
Introduction to core concepts and best practices through case-studies - 20 minutes
informed and granular consent,
reciprocity and transparency,
privacy and data protection.
Working groups - 30 minutes
We will present hypothetical cases about user research situations as provocations to each group. Each group will discuss and map:
The stake-holders of research both current and potential
Matters of concern, expectations and role in research for each of the stakeholders
A range of intended and unintended consequences for all stakeholders
The aim is to highlight the good and harm to all the stakeholders concerned.
Group presentation & discussion - 15 minutes
Towards outlining a code of ethics - 30 minutes.Points across groups will be brought forward as a base to start outlining a code as well as best practices for ethical user research.
Next steps and wrap-up- 15 minutes