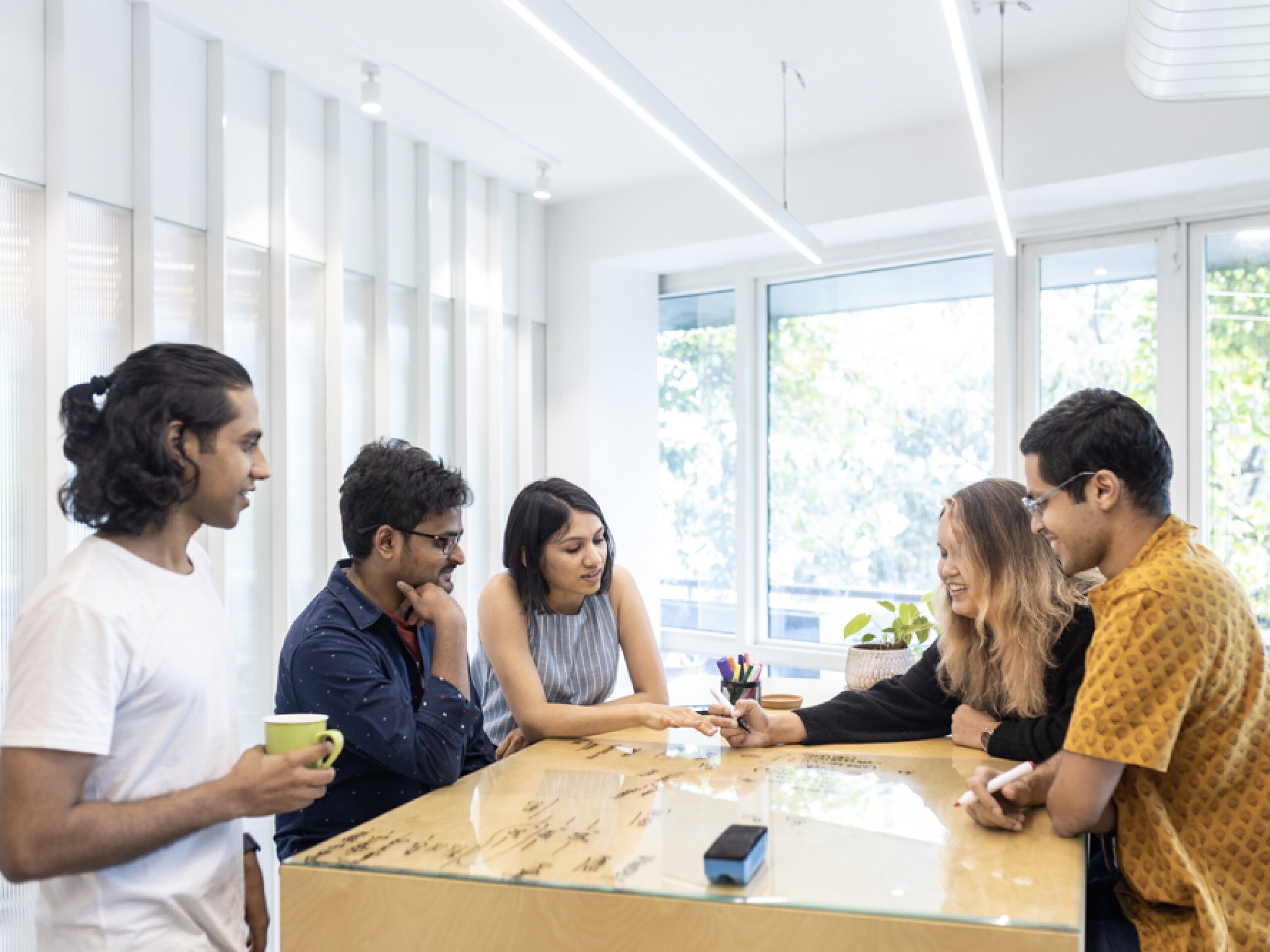 As product designers, our day to day work usually involves building out features, flows and putting together an end-to-end product. But sometimes, the product can run into problems like low adoption rates because it isn't standing out, or the users are migrating users because they are responding to unmet customer needs. Or perhaps there's no clear direction for the product to grow and scale yet.
Some people might argue that addressing these issues is not a product designer's job. But to be able to build good products, it's extremely important to identify the "right" problems. It's the timely discovery of opportunities that can transform businesses into those that anticipate user needs, deliver an outstanding experience and stand the test of time. And this is as much a responsibility of a product designer as it is of a business lead.
Before you can see an opportunity, you have to be looking for it.
The ideal time to do this is early on in a product's life cycle. But for an already established product, it's healthy to look for exciting opportunities at regular intervals so the future product directions can be defined relevantly and timely.
To find the right opportunities and answer 'where to play?' next for your product as a designer, we recommend following a three-phase process:
Begin by collecting all the data about the users, business and the industry to understand the landscape better.
Take a deep dive into the raw data and uncover insights and patterns. Ask questions and explore all possible opportunities.
Bring all the decision-makers together to set goals that align with design and business both.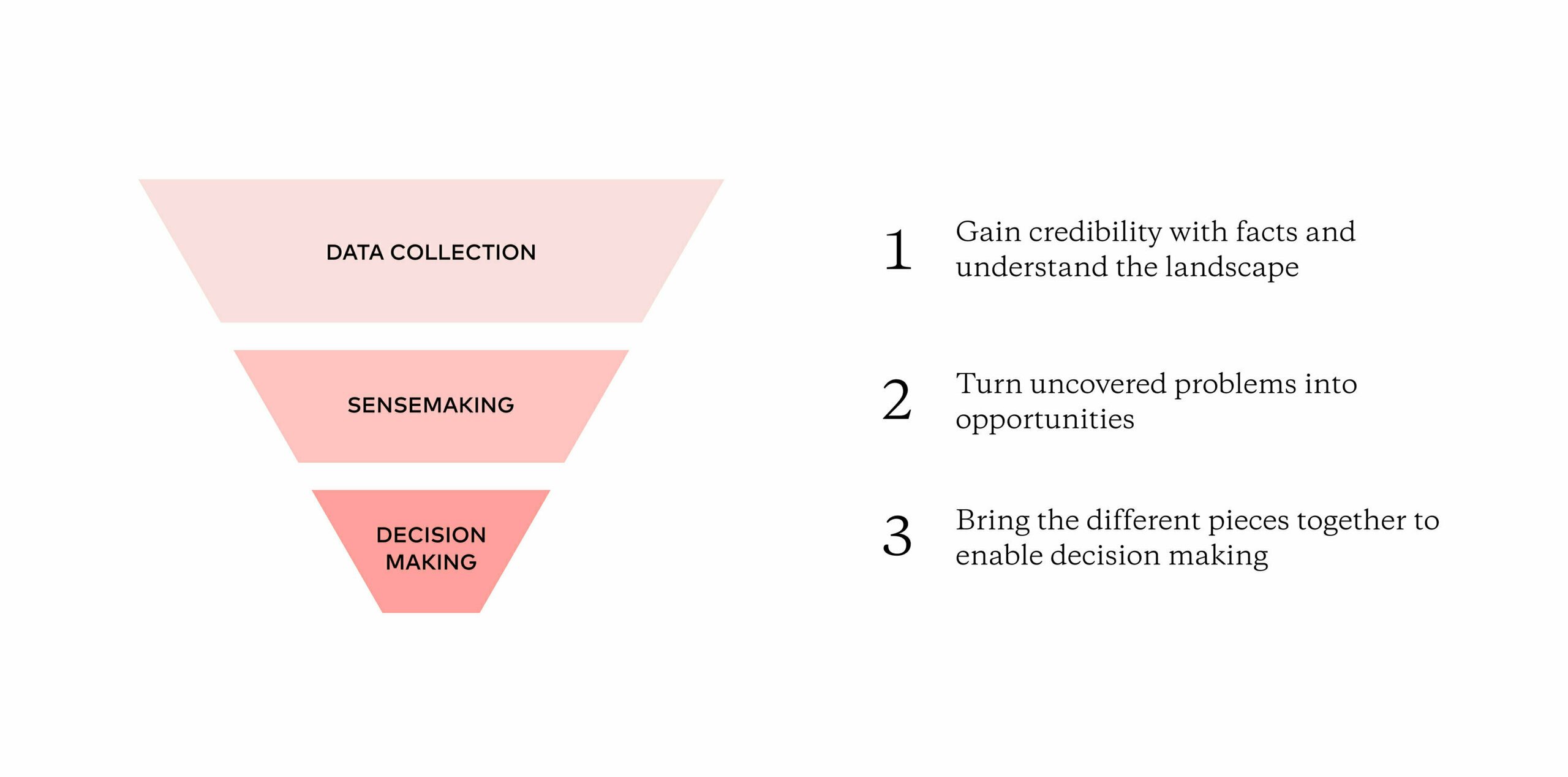 Phase 1: Collect data
Data about the organisation and the outside world is critical to understand what drives the ecosystem. Once that's in place, it's possible to triangulate, detect intersections between the company, user and industry and arrive at opportunity areas for your product.
Know your users
The first step towards making a product that's both functional and delightful is understanding your users, their needs, pain points and unique use cases.
A helpful layer here is to look at both—the existing customer base and potential users. The existing customer base can help you gauge what already works for your product and where they struggle currently. The potential user base can help you understand what more your product can be doing.
Gather data about the users through evaluative research, quantitative and secondary research. Here is a detailed guide from our playbook on conducting user research.
Know your company
Uncovering your organisation's core principles is important because your solution needs to align with the business goals. Use workshops and expert interviews to understand the organisation. Some good questions to ask include:
What are the organisation's long term goals? What are the priorities and expectations? What direction does your company want to take?
What metrics does your organisation use to define success?
What should we not do?
Know your industry
It's a big world. Someone might have solved the same problem already or tried and failed. Stand on the shoulder of giants and learn from those who've been there before. Even a revolutionary product like the iPod was built upon the work of Kane Kramer, who took inspiration from the Sony Walkman.
Understand the ecosystem you and your competition operate in. Recognise the competition's target users, differentiators, how do they pitch and talk about their service and what's not working from them through customer feedback. All these will help you benchmark your product and company, and create a unique value proposition.
Here is a good framework for conducting a competitive analysis for your business.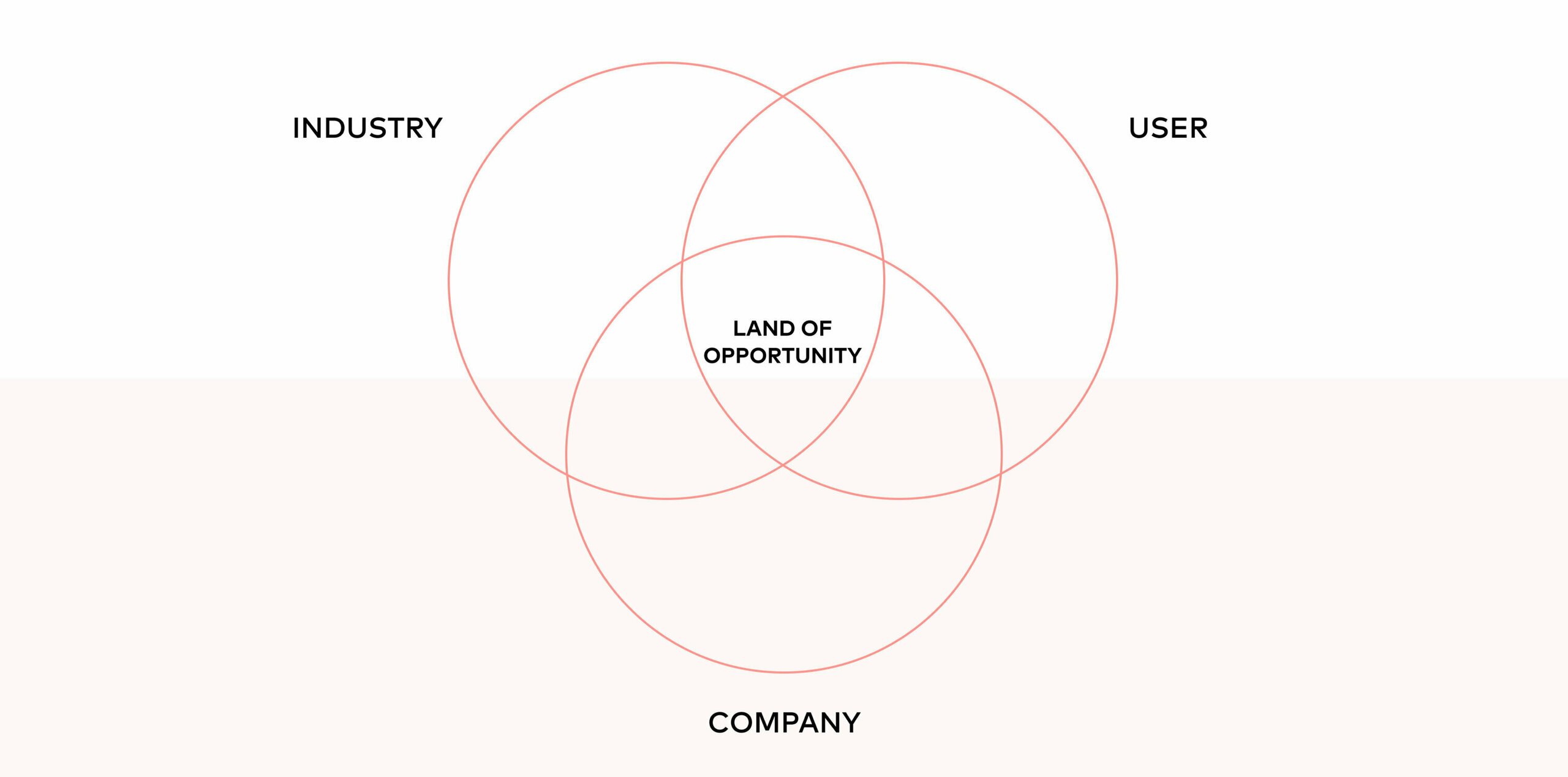 Phase 2: Interpret and organise data
Once you have all your raw data, make sense of it—find patterns, intersections and common themes. Get your teams together along with whiteboards and post-it notes and start brainstorming.
Organise the data:

Identify user attributes & personas: What are the different kinds of users? What are some prominent behaviours across different users? If there is more than one kind of user, map them too. Map all the deviations and exceptions — it all adds up.
Identify the user journey: Get a sense of where the user is, where they want to go, what their needs are, and the barriers and pain points in this journey.

Document your journey: Write down all your findings and make them accessible to your stakeholders since you might need to reference the information later. Notion has a great format and here is a guide on how to document well.
Start with How Might We's: Look at your user research and the pain points of the user. Try to paraphrase them into a question, a challenge to solve. Here is a walkthrough from Ideo.org of how to conduct this.
Cluster/affinity mapping: Find the common thread between the HMW's and cluster them according to their similarities.
At this point, do not think of solutions to the opportunities; simply understand the breadth of possibilities for your product.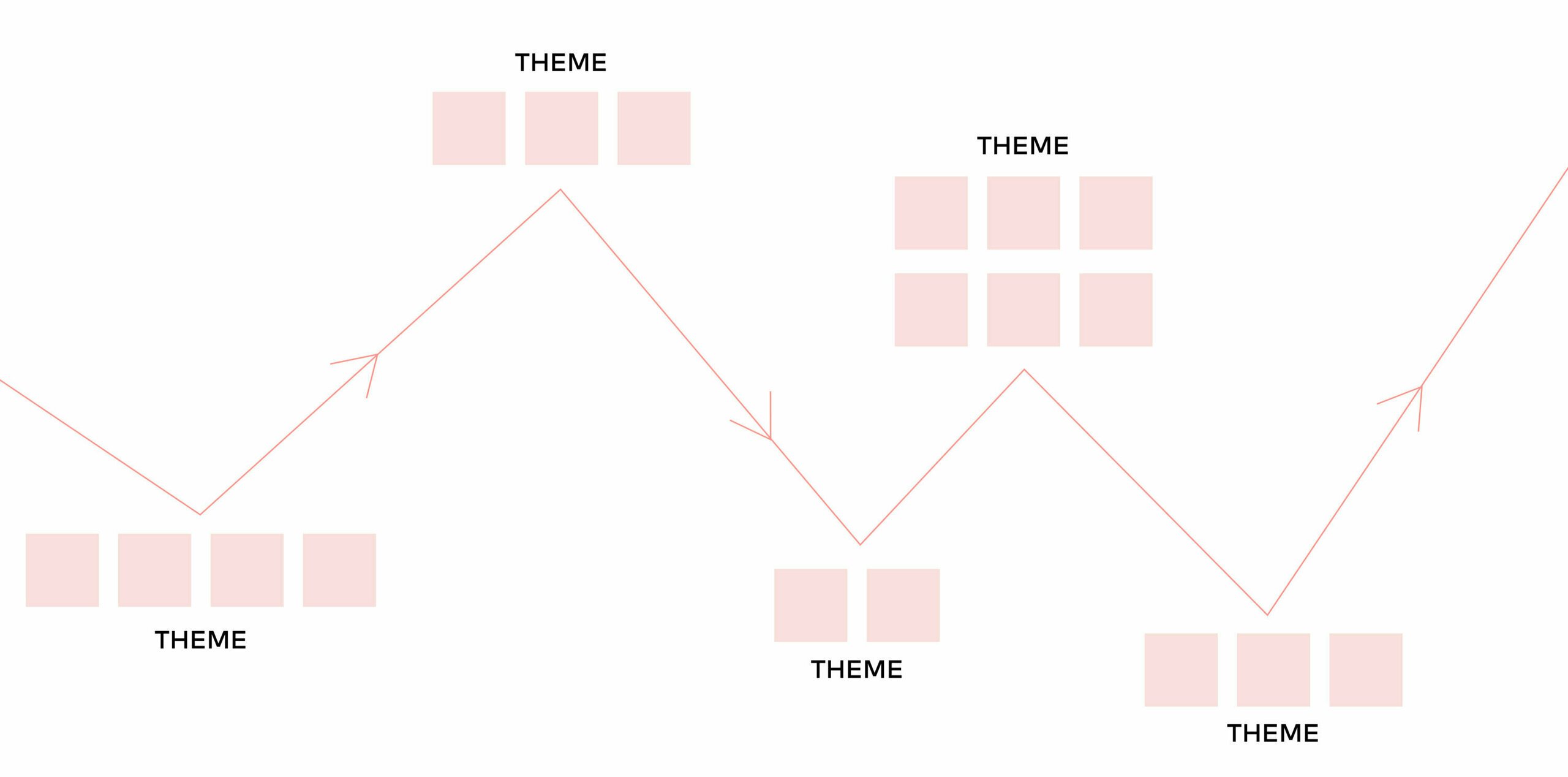 Phase 3: Decide what to build
Once you realise all the opportunities and have a clear idea of the possible areas that are achievable, get the decision-makers on board. Align with business goals and narrow down the most important opportunities that will drive the needed outcomes. Here's how:
Put the user at the centre: Map out where these opportunities fit in for your user. If the business goal is to increase retention, prioritise opportunities that enhance the existing user experience. If you want to increase your market share, ensure options that increase awareness and adoption for new customers.
Unpack your competitor(s): Communicate what they have explored and succeeded or failed at, and what are the unchartered waters. Now you know what is a safe bet, what might not work unless done very differently and where it might be high risk but high reward.
Align with goals: Show stakeholders how the opportunities will add value to the business.
Think frameworks: Mapping the themes to a framework is useful to use as a starting point for the facilitation of decision making. (AARRR is a great example!)
Present: Use storytelling skills to present a complete picture and close the deal! (Storytelling for designers is a good reference)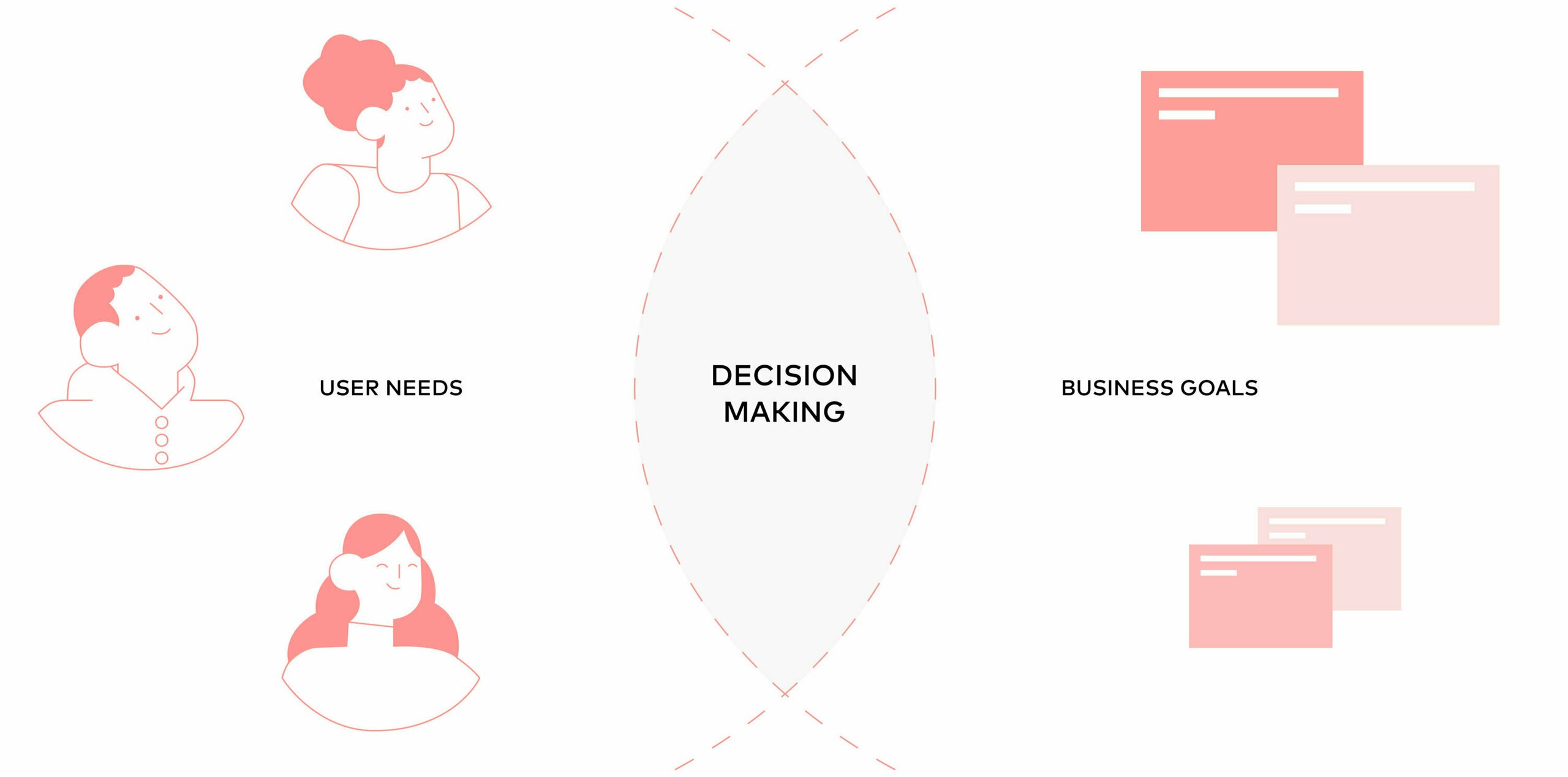 How we helped Simple
Simple is a joint initiative of India Hypertension Control Initiative and Resolve to Save Lives, a venture of Vital Strategies to strengthen public health systems all over the world.The Obvious team has been using design research to guide the product roadmap for Simple, right from the first pilot in 2018 to today when they are scaling across countries.
Our first goal was to identify which problems required design intervention. Through deep contextual inquiries and ethnographic studies, we identified how paper systems were the biggest barrier to patient care. On average, a nurse got less than two minutes per patient, and they spent this precious time looking through patient records instead of treating the person sitting in front of them. The mobile app for Simple was designed to solve for that and was designed to operate in an offline first environment.
As the project picked momentum, continuous research helped us identify other unique problems. How could we solve for multiple patients on the app having the same name? We designed patient cards with unique QR codes, which nurses could scan to find a patient in less than a second!
By systematically inquiring about the user's environments and goals, thoroughly documenting learnings, and prioritising features based on field data, we have been able to consistently build a product that has had the greatest impact and used design to drive business goals. To read more on Simple, read our case study here.

A final word
By finding opportunities proactively, teams will be better positioned to outline a clear path to success. But this is just the first step. Consistently identifying the changing needs and market landscape, and aligning all efforts accordingly is key. For now, all we will say is this: Great opportunities don't come every day—recognise and seize them with every chance you get.
Acknowledgement
Thanks to Vikalp, Mahima and Dhruv for the feedback on this article.