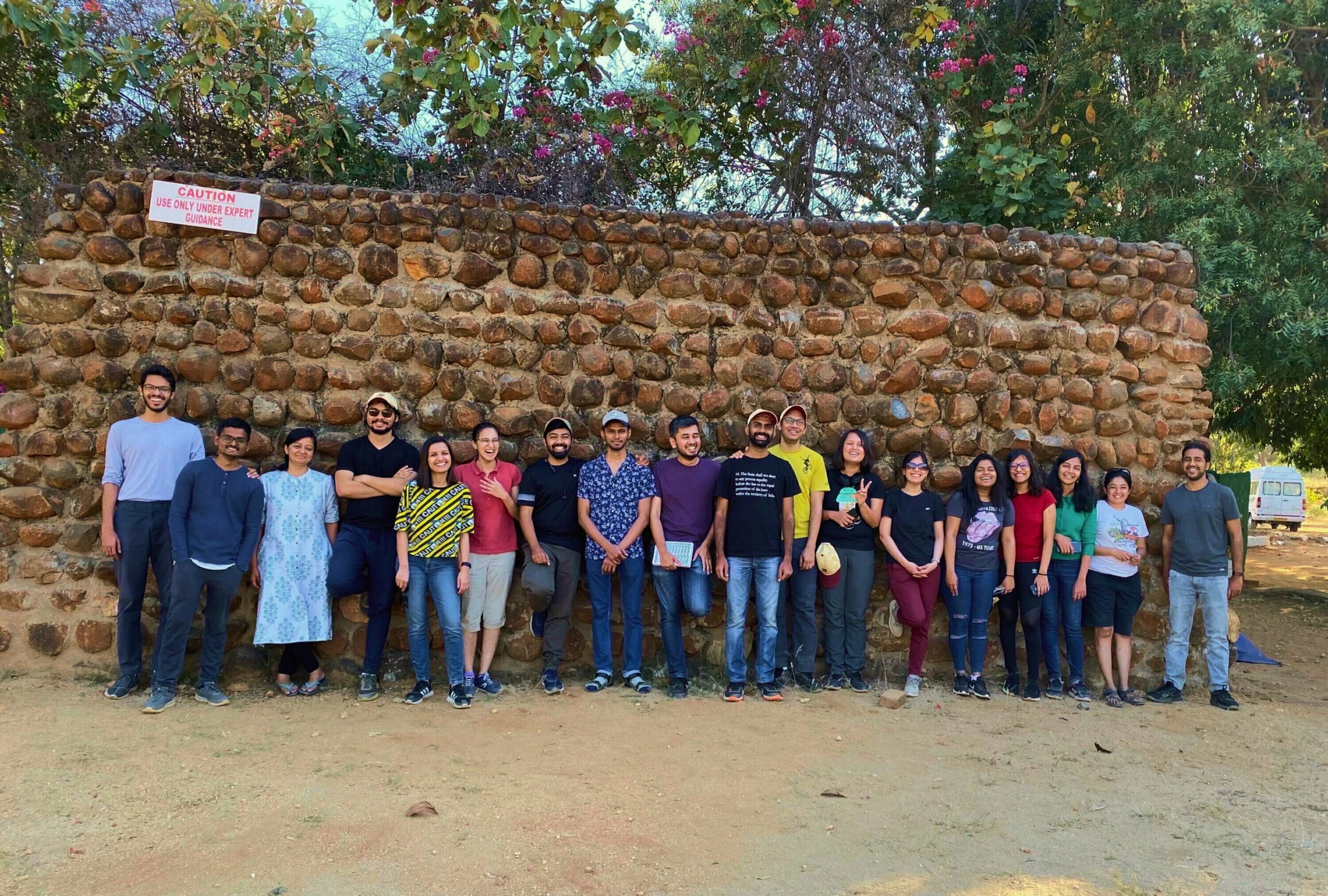 The on-point offsite
In healthy, growing organisations, "culture" is an ever-morphing, evolving thing. Sometimes as companies evolve from close-knit groups of a dozen people the old bonds can evaporate, even if that growth is organic and not sudden. However, such a situation can be turned into an opportunity to bring colleagues even closer together, if there is an alertness to this need. A structured team-building effort like an offsite, designed to build connections can really be the ticket.


Offsites can really work well… or completely bomb. It all depends on the awareness of the needs of the audience, and depth of the offsite design. For our offsite, our wish was to have an experience where people could bond deeply with each other across teams; build mutual trust and respect and experience a sense of belonging; and encourage openness and empathy, while holding each other accountable for shared goals.
The plan
For our first offsite of early 2020 (when the pandemic didn't exist around us), and the first with over 20 people in attendance, we went with a recommendation from colleagues, who had recently seen the value of experiential outbound learning for a client they accompanied. We decided to spend two days at Pegasus Learning for Excellence.


The offsite was an exercise in experiential learning: teams play, interact, plan and execute a task, and then come together to dialogue, introspect and deepen their understanding of themselves and others. Using Kolb's learning cycle, the program design had built in spaces for participants to question their own habits, challenge inhibitions, confront fears and express feelings non-judgmentally.


The plan was for us to go to Pegasus's Bangalore campus, two hours drive from Bangalore, in Doddabalapur. The information received mixed reactions: there was curiosity and excitement about the experience and there were questions about the levels of physical difficulties — were we expected to rappel down cliff faces or do fireman's lifts on colleagues? We thought the fears were allayed, but the day before the offsite, we were at 18 people attending, and a mounting cancellation count of 9 people. A third of the office was not coming! Factoring in illness and personal blockers, we were still starting off on a worrying note. But we pushed on.
The experience
We left from office at the end of a day's work on Thursday, 23rd January. We piled into two buses, told stories, played games, and barreled towards the relative quiet of the outskirts. Upon being welcomed to the campus, we were shown our living quarters (four tents, each accommodating 4-5 people and dorm-style bathrooms). Some stone benches in the middle made for a convenient spot for everyone to gather for natter, and to admire the night sky. After a hearty meal around a bonfire, we were bid goodnight and told to "report at the small gazebo at 8.29 AM". The quiet ones retreated to their respective tents after an hour of chatter, and the energetic ones went on till 1 AM.
Day 1
On the first morning of the offsite, we walked into said small gazebo, and not at 8.29 AM. All of us — including those who walked in at 8.38 AM — were regardless greeted with the same smile by our two facilitators, Sudatta and Deepak. Phew! We were told that we will wait for the last participant to come in, before commencing, no judgment and no pressure. What a great start.


The program design was a work of art in how our boundaries expanded slowly and gently. In the first activity, we felt very little discomfort. We split into two teams and stood on two carpets. The task needed people to switch from one to another, and as it got crowded, some of us propped up others. It was telling, when someone said, "I knew I was supported when I lost balance – but I don't know who all supported me. Thanks everyone, for the support."


In the second activity, people had to be moved from one space to the other with constraints. We realised that each person needed to be lifted by others off the ground, moved a few feet, passed on and be received by another set of people and gently set down on solid ground again. This 45 minute long task brought to the fore realities about trusting others, shouldering the responsibility of that implied trust, and letting go of fears of feeling like a burden to those doing the lifting. This created more discomfort at the start, but beyond that, it welcomed us into a space of heightened trust.


We spent the afternoon in a deceptively simple activity, which contained great depth. In groups of fours and fives, we told each other personal stories of adversity and resilience and appreciated each other. This automatically surfaced people's vulnerabilities as strengths and not weaknesses. We also drew our vision of how we see Obvious now, what we'd like to see in three years and what stands in the way. We then shared this with the larger group to much applause and acceptance.
The evening set the tone for more childhood stories, more conversations, more walks in groups of all sizes, and much laughter.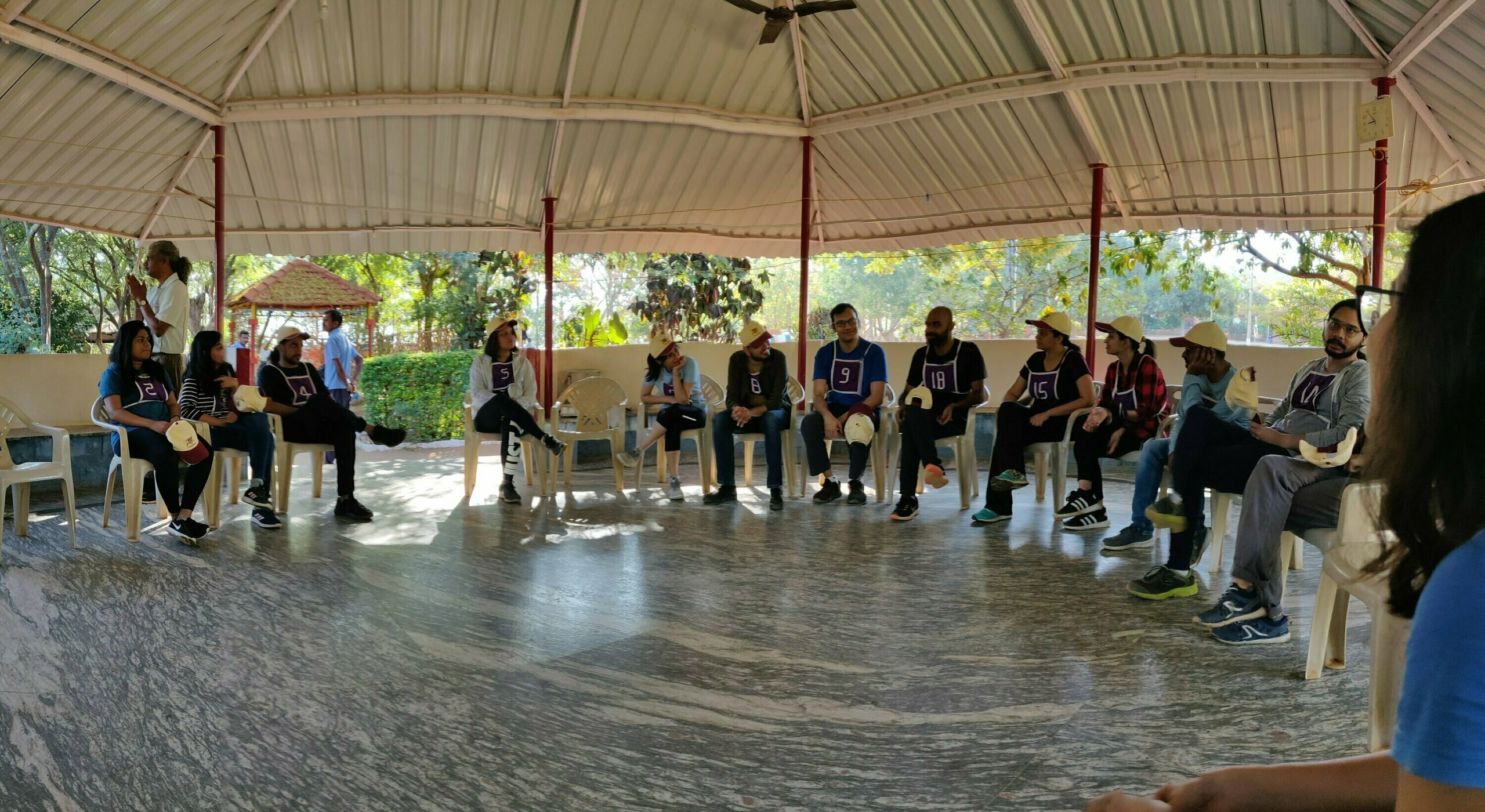 Day 2
The second day started off on an unexpectedly absurd but charming note, with the whole group singing ditties and warming up for the task at hand: To work with each other to race against time in a sophisticated version of "the floor is lava". Many opinions, a couple of misses, new folks taking the lead, and finally, #OneTeam succeeded in the task at hand.


The penultimate activity saw half the team blindfolded to play a game that tested the group's ability to communicate, while the other half of the team watched on. In the reflective silences at the end of this activity, we did some introspection of our own work needs, perspectives, how we share these now, and what can we keep/ change in this mix.


To close the two days of work, we looked at the gap between how the organisation is currently and where we want to go. In two groups, we shared three poignant wishes each, with the other team. With a resolve to convert these wishes into goals and meet our facilitators again in 45 days, we called the offsite to a close.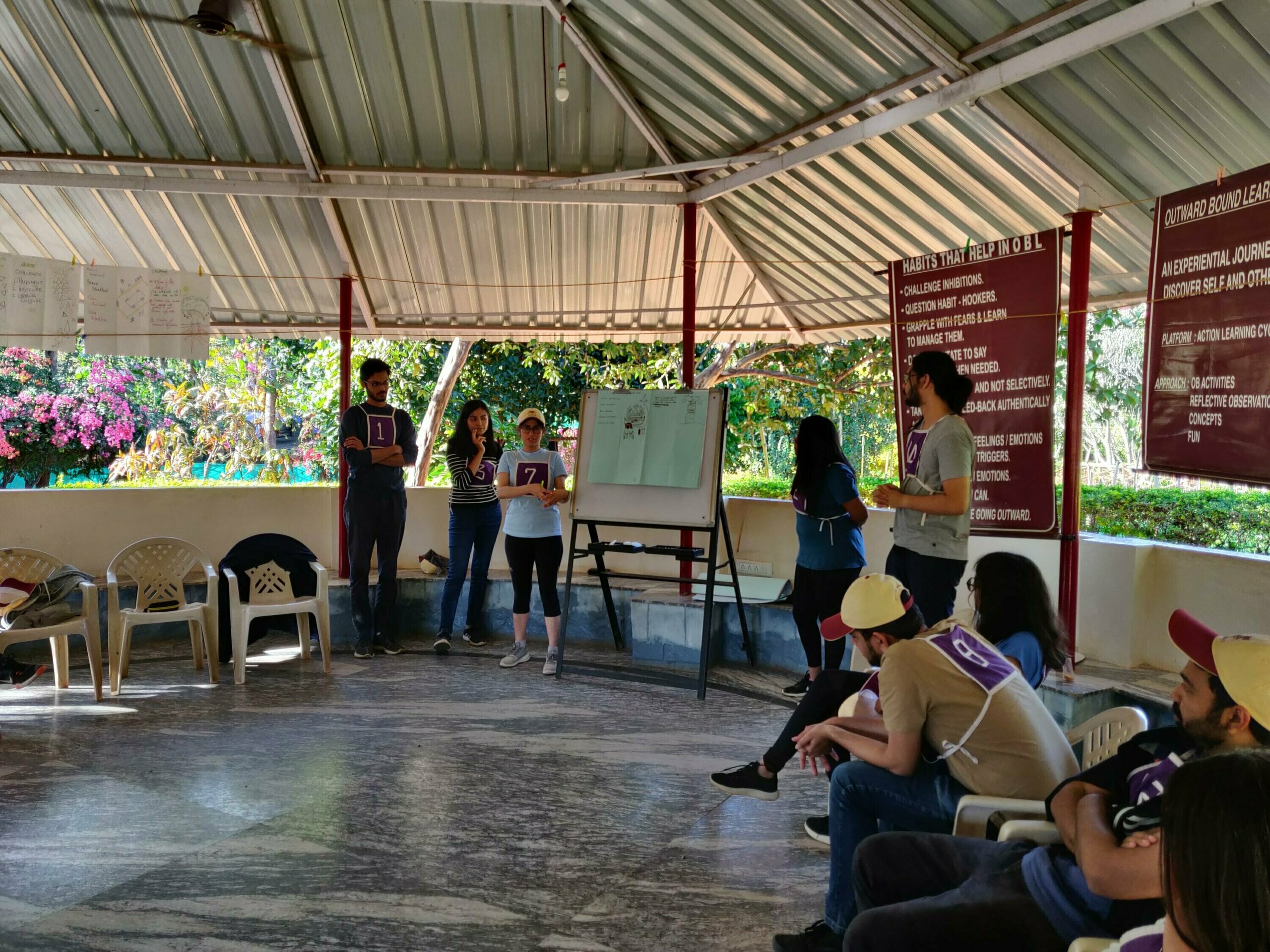 Looking back
What contributed to this offsite being memorable, fun, depth-filled and allowing for true bonding? Here are the top 3 reasons:


Groundwork
The Pegasus team did research on Obvious and experiences culled from their work with hundreds of organisations at different stages of being. The introductory conversation with People Ops, where our needs were share, helped too. The Pegasus team spent half a day at our office, interviewing 50% of the participants, understanding their needs in their own words. This went beyond corroborating what they heard from People Ops – this helped them build the foundation for the workshop.
During the workshop, the two facilitators talked to each other in between activities, gauged energy levels and planned for changes to the next activity to ensure maximum engagement.


Safe space
The way the facilitators set up the space was to constantly maintain a level of visible respect for all. It showed in the small things: always waiting for the last person, for instance. And it showed in the big things: always have an inviting smile for every response; asking for deeper reflection and, but not necessarily, asking people to share the outcome of that reflection.


Allowing silences
The facilitators helped us surface our opinions into the safety of our circle, watched out for ideas not to be shot down, and asked deeper questions for reflections. There were many instances of very comfortable silence, which helped us to reflect on our own journeys, our own needs, and talk about them.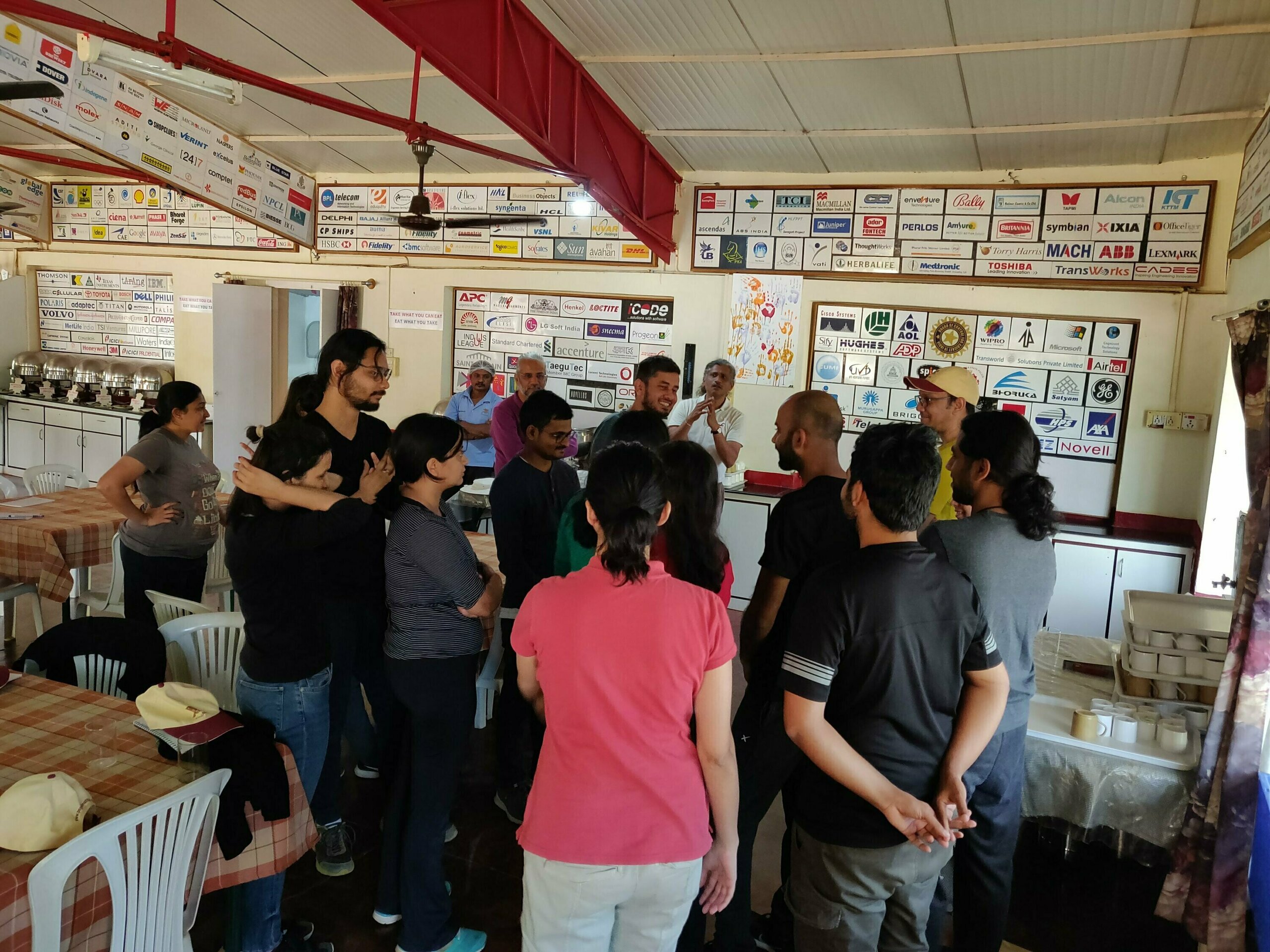 One of the implications of a successful project is that the bar has been set higher for the foreseeable future. For the next offsite, in addition to maintaining meaning, bonding, a great experience, the challenge of higher participation is now added. Challenge accepted.