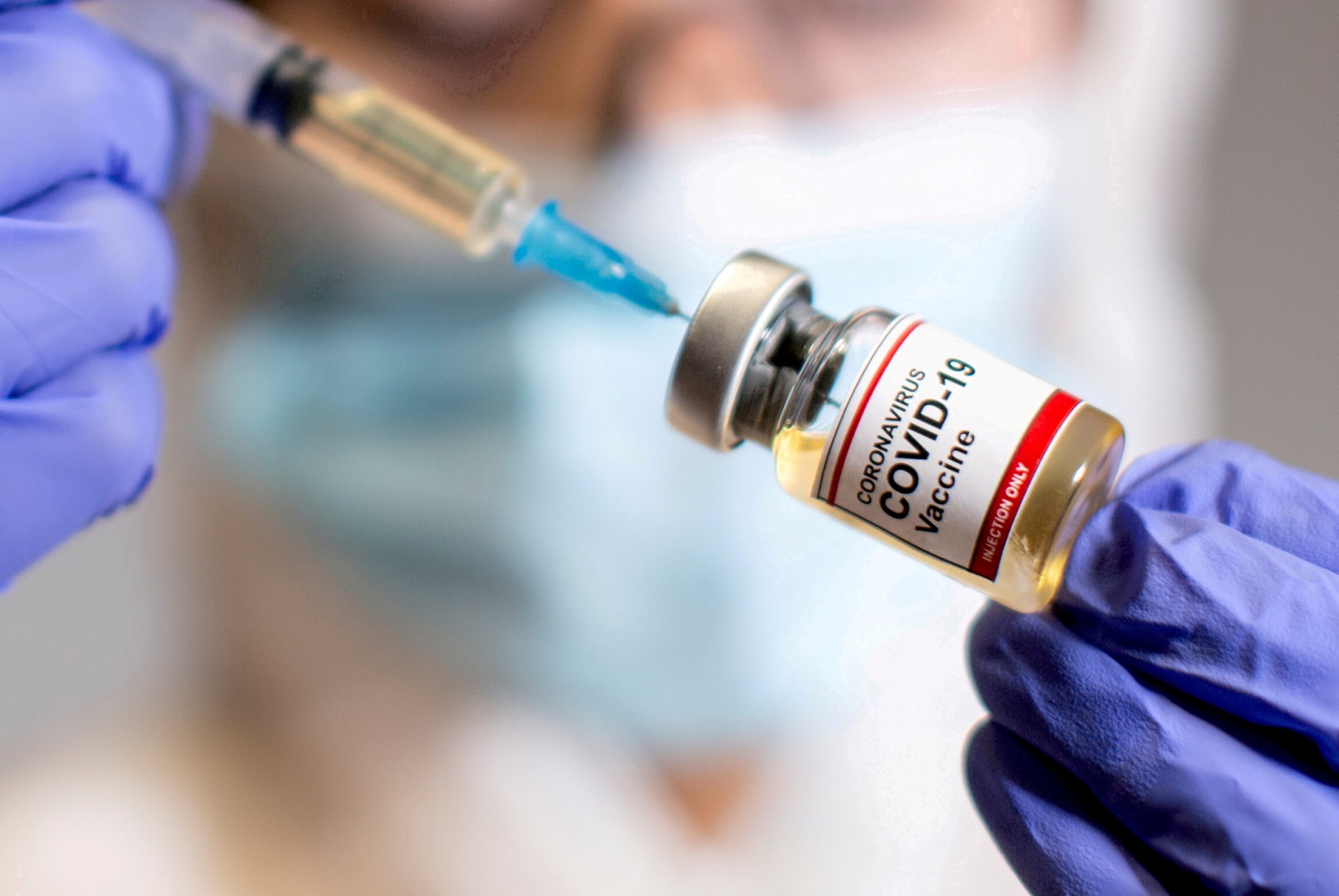 The COVID-19 pandemic changed everything around us drastically, with people trying to deal with circumstances beyond their control and comprehend the idea of being constantly worried about/taking care of our and our loved ones' wellbeing. The vaccines came in soon after, not one but two, gradually but surely. But more than the availability of the vaccines, it was really the hesitation, fear and misinformation that was slowing down the vaccination rates in the country.
When the government launched the Co-Win portal, anyone with an ID card was eligible to register themselves and book a vaccination slot. And while this was a great first step, there was also a high percentage of population which didn't have access/resources to a mobile phone.
Uncertainty and less access to resources were thus the primary reasons why there was a need for a system that could help solve this crisis and ramp up the vaccination drive. And that's exactly what we set out to do. India Vaccine Project was to be a community driven initiative— a website that would help people understand vaccines/vaccine related information and books slots easily.
The What and Why of IndiaVaccine
When working on a project as sensitive as Indiavaccine.in, time is always of the essence. But since this was an end-to-end community driven effort, help was easily available and within one week, we were 800 strong members on Discord and rapidly growing.
We gathered insights from the Obvious playbook and followed a variation of the sprint methodology to come up with a concrete plan. Our idea was to be fully open source, use a no-code tool, and focus less on the presentation but more on the content so that anyone could contribute to the cause.
After brainstorming and exploring all possible opportunities, we arrived at a few goals: education around vaccine hesitancy, a more robust way to book slots, and making it easy for everyone to make an informed decision about where they can find covid19 vaccination centers (CVCs) near their location.
From this we were able to identify 3 ways to do so in a sustainable fashion:
Augment list of CVCs with information from other sources of location information (For e.g. Google Map APIs)
Crowdsource relevant information from folks who have already visited CVCs to get their shot.
Leverage volunteers to call and collect information from CVCs
Foundational pillars
To ensure we have a north star that everyone is aligned to, we set up four foundational pillars:
Facilitate: Use Tech/data/design to enable people to reliably to get vaccinate.
Educate: Ensure curated, verified, simple and focused content available in multiple languages.
Collaborate : Work with volunteers for all functions of IndiaVaccine (PSA, FAQs, Education).
Donate : Explore direct contributions or "branded vaccination drives" to tap into the donor community resources.
Once this was in place, the next step was to identify a proper information architecture that can be used to implement these goals on to the website.
Setting up the information architecture
We then created a clean and predictable flow of information, ensuring conformance to the best practices and adherence to the human interface guidelines set by each platform.
As with every other project, we came across a lot of what-if scenarios and edge cases that needed a safety net in case something went wrong. This meant that issues like dead ends and error messages had to be tackled. For instance, when there is poor or no internet connectivity, our designs needed to ensure that instead of blocking the user from proceeding with error messages, we had to focus on offline-first solutions that could store information locally and sync the information when the connection is restored.
We'd also realised through our initial insights that most people come to the website looking for vaccine related information first, not as much to volunteer or to get educated about vaccines from scratch. We accordingly set up our information architecture, and followed a simple top-down, left-right user view flow approach. This also entailed a set priority order of all our main pillar elements on the page, putting facilitation first, followed by education.
Working with Webflow
We started designing and developing on React JS, but soon moved to Webflow for easier contribution and flexibility. Webflow also ensured shareability, which meant that anyone who wanted to help could do it easily—whether it be in terms of adding information to the website or in terms of design customisation. Setting up the UI albeit took a lot of modifications, but was a fairly fast process, and within two weeks, we were all ready to launch the website with 5x times less of an effort.
A decision was also made early on to add different Indian languages to the website, to cater to the diverse Indian audiences that used the internet to access information and preferred reading in their language of choice.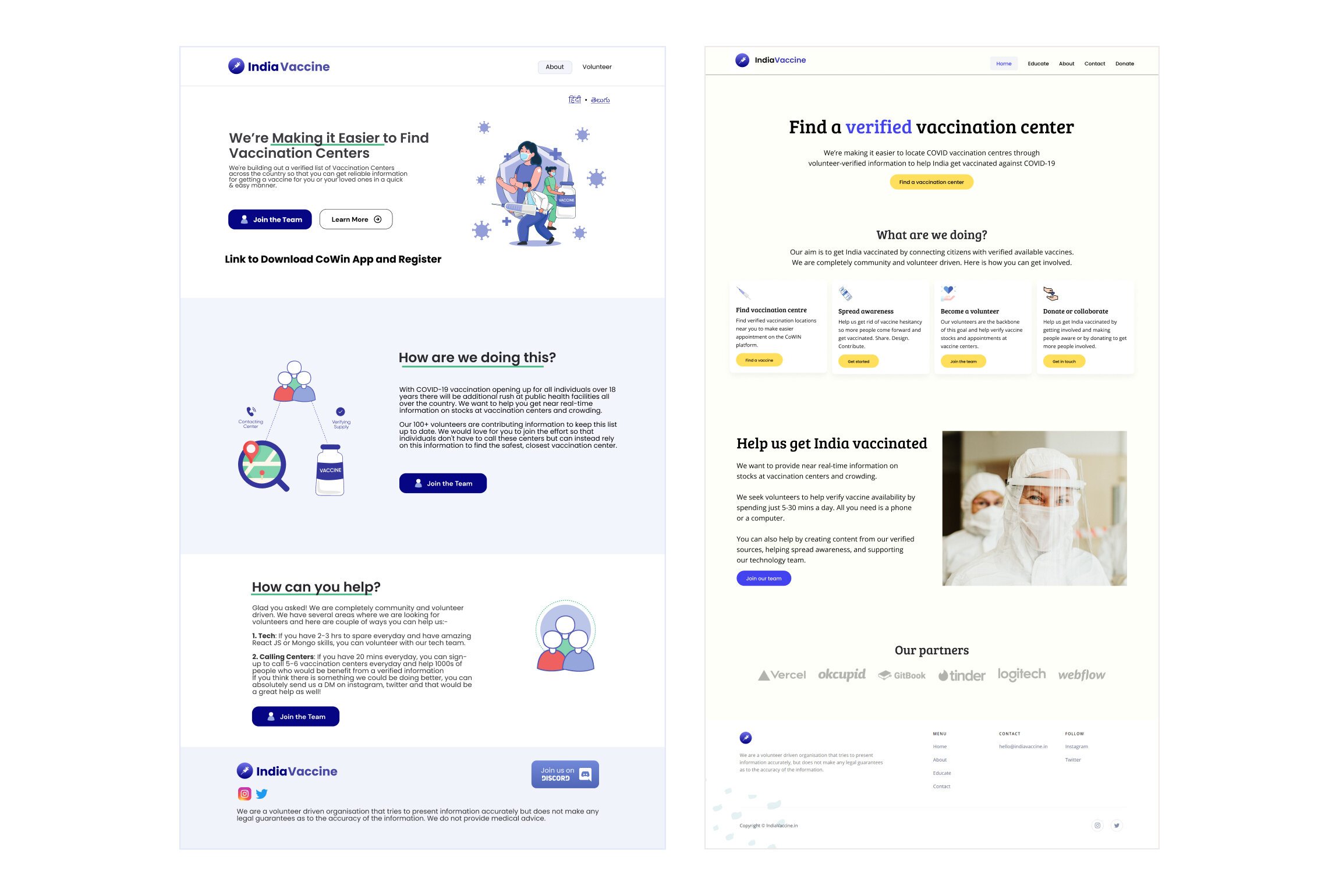 Offline access and vaccine booking through an automated IVRS system
To ensure that people could still access our platform when offline and book a vaccine slot, we began researching and realised that an automated IVRS system was the one that seemed the closest to the solution than any. We built out a user persona/scenarios to understand the context better. Here's what an example looked like:
"Suresh lives in a village, and is trying to find if getting vaccinated is necessary or not. He has elders in his family as well and is scared because of the news about side-affects of the vaccine. He has heard that vaccines can make one impotent or vaccines are a way to insert chips in us. He needs a one-stop destination for all his doubts and wants to share this relevant information as well with his family, friends, etc."
To answer questions like these in the simplest way possible, we chose to allow for a one-to-one interaction with a trustful person. The user could call up a dedicated helpline number, enter the details through the IVRS system, get automated replies that educated them about the vaccine, ask if they still need help, get a volunteer to book a slot for them whenever there's an opening with their number and voila, that's it!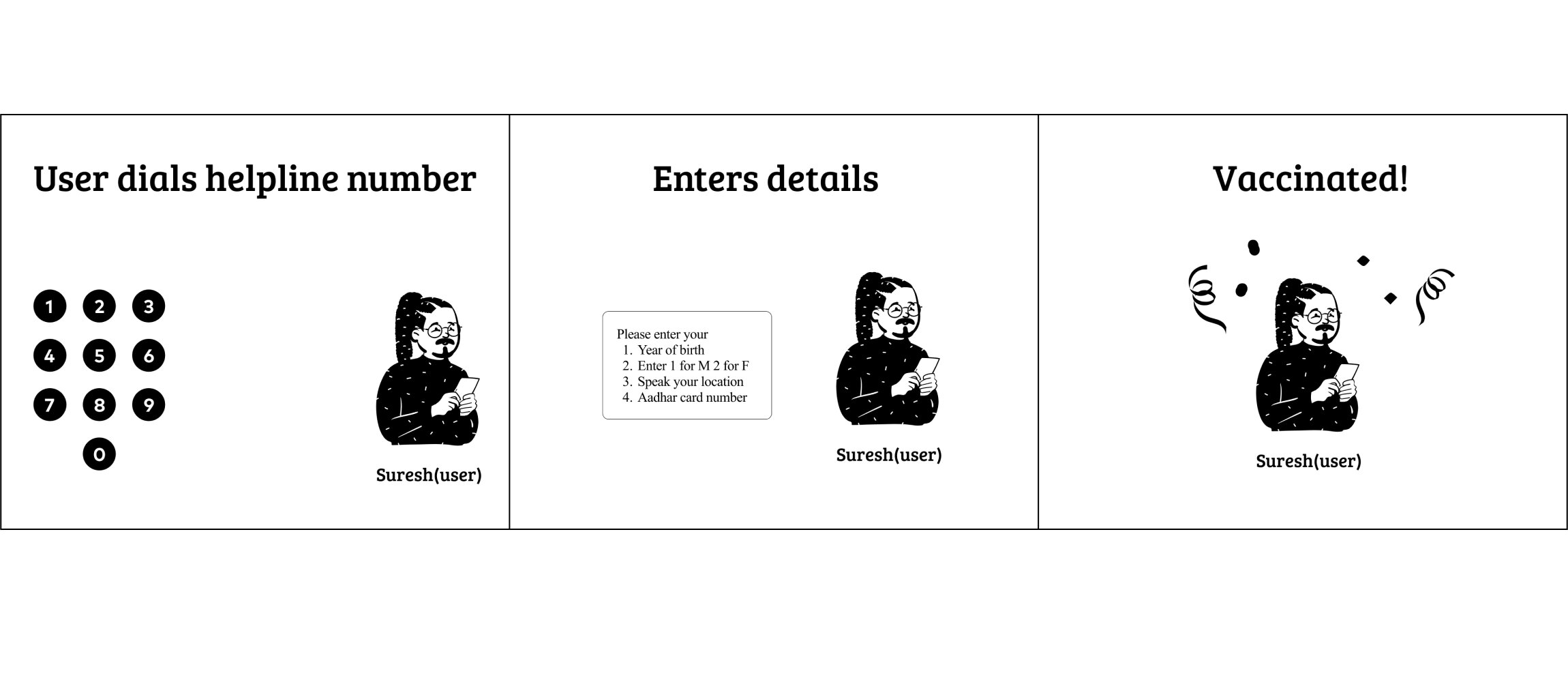 Open Standards, Open Data, Open Source, and Open Innovation
COVID-19 guidelines for vaccines and availability get updated regularly, which meant that website also had to be checked and updated frequently. But having an open-source project with multiple volunteers ensured that the information wasn't outdated at any given point of time. A few learnings along the way:
Moving from a hard-coded website to webflow really helped out with maintaining a steady pace and achieving a faster output
Having the website in different regional languages ensured that the right information was available to everyone, in line with their preferences
Tackling the problem from the ground up and setting down proper benchmarks at the beginning helped ensure that the entire community worked towards one, clearly defined end goal—that of ensuring everyone in the country gets vaccinated voluntarily
If you have some equally interesting/exciting open-source projects that you think you'd love to get our thoughts/help on, please write in to us at hello@obvious.in!