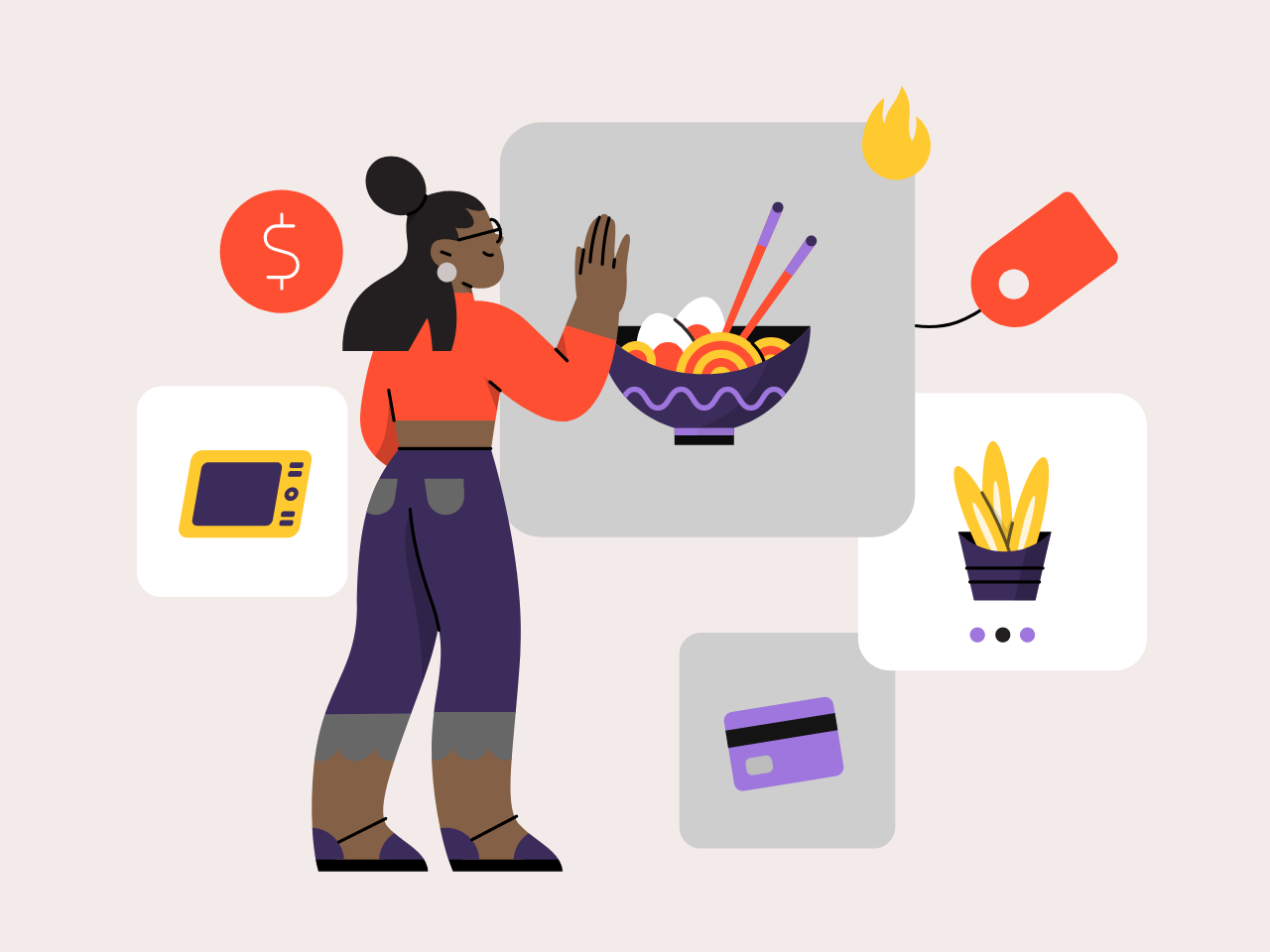 Illustration via designstripe

Adding things to your e-commerce cart, entering your payment details and then finding the perfect discount coupon for your purchase — there's no other feeling like it, right? It's small happiness that brightens up anyone's day.
When I dove down a rabbit hole of e-commerce platforms, I noticed that with apps like Swiggy, Zomato, and Dunzo, one thing is consistent: all of them have offers running. These span from something as small as "0" delivery fee to up to 70% off on items—and this is the case for almost any e-commerce app that exists in India.
I wanted to see whether this small happiness was universal, so I downloaded a bunch of e-commerce apps from across the world. But what I found was surprising.
Want to see what I'm talking about? Let's play a game!
Found any?
If not, let me help you out: Dunzo has offers running on almost every category they have, but Uber Eats doesn't!
There's more where that came from.
Swiggy Instamart vs DoorDash
Swiggy Instamart has multiple running offers. DoorDash, an American food ordering and delivery platform that serves the States and countries like Canada, Australia, Japan and Germany, doesn't display offers in any category.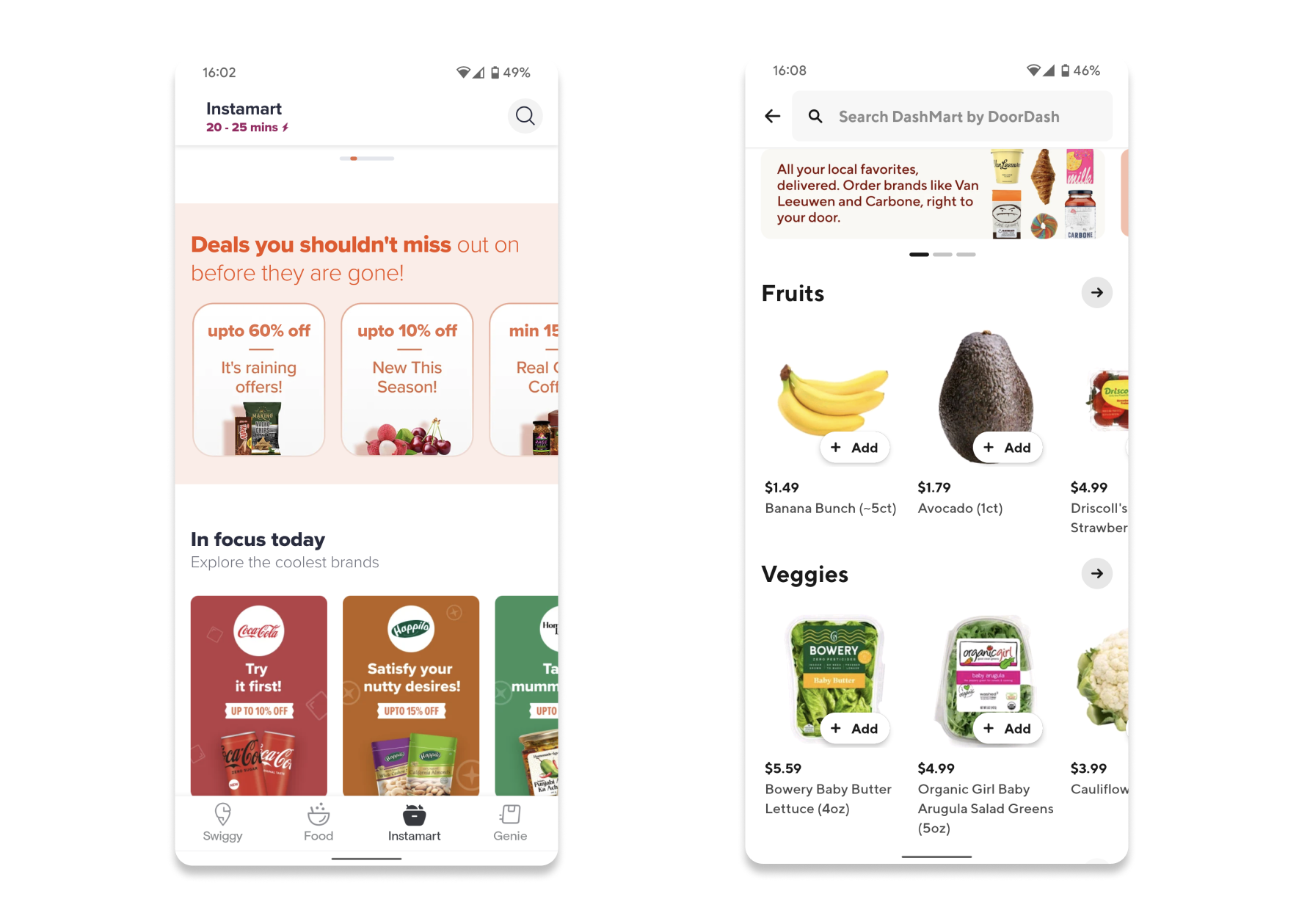 Big Basket vs Deliveroo
Big Basket's home page advertises offers and coupon codes. But Deliveroo a British online food delivery company that operates in over two hundred locations across the world, prioritises top picks over discounts.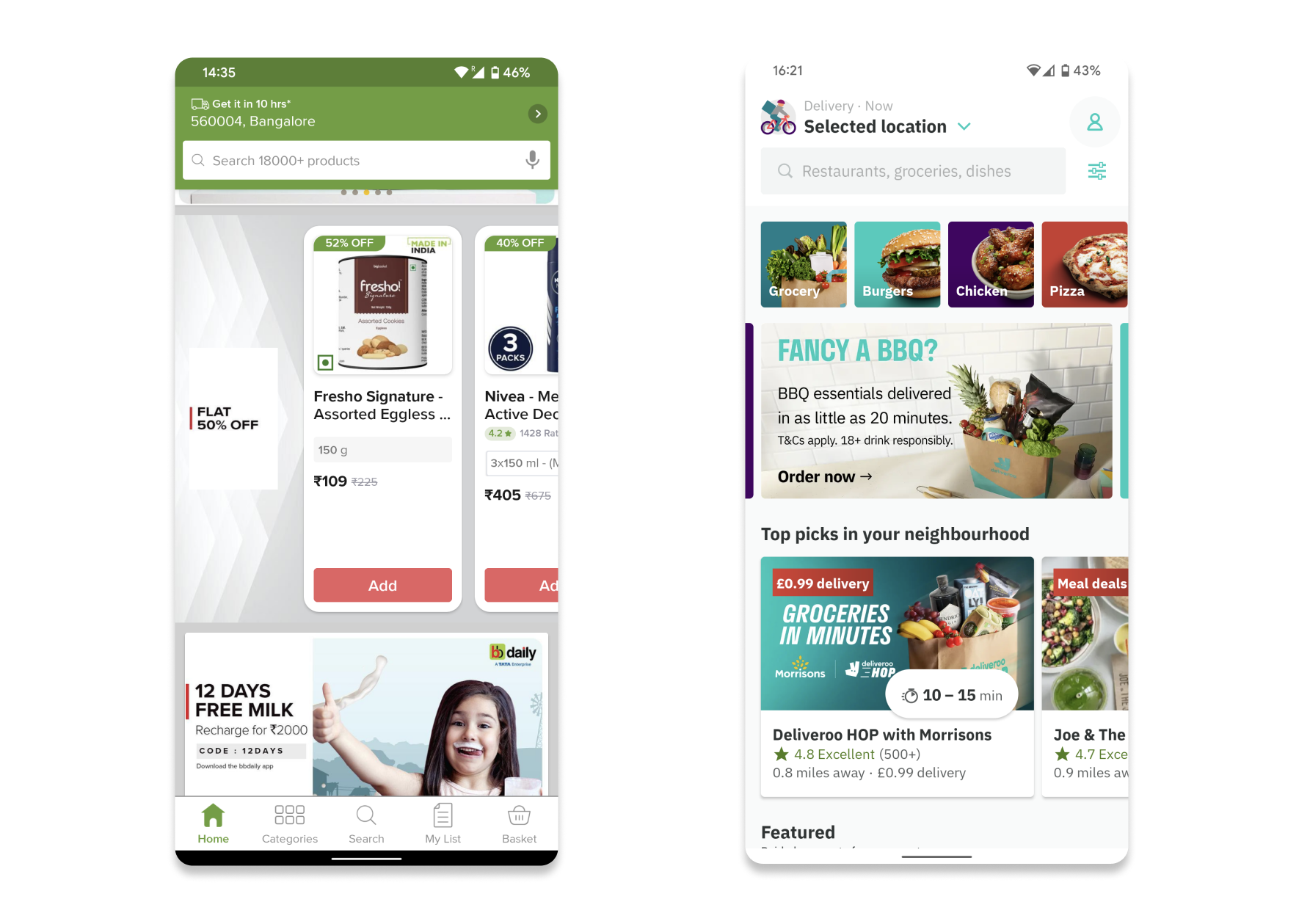 How much prominence do offers and discounts have in the design? Almost none! Does this mean they can't afford to publicise discounts? Is Doordash, for example, in the red? Not really, because according to reports, its revenue in Q1 2022 was $1.46 billion — a 35% increase year-over-year, topping analyst consensus estimates by around $80 million. Wow.
Across the board, we see that weightage given to discounts and offers in UI is almost negligible in international apps. But India prioritises it.
What about other developing countries?
A look into e-commerce apps like Bangladesh-based HungryNaki and Southeast Asia-based Grab showed various discounts going on at any time. Discounts appear in almost any category to get new users onboarded onto their platform.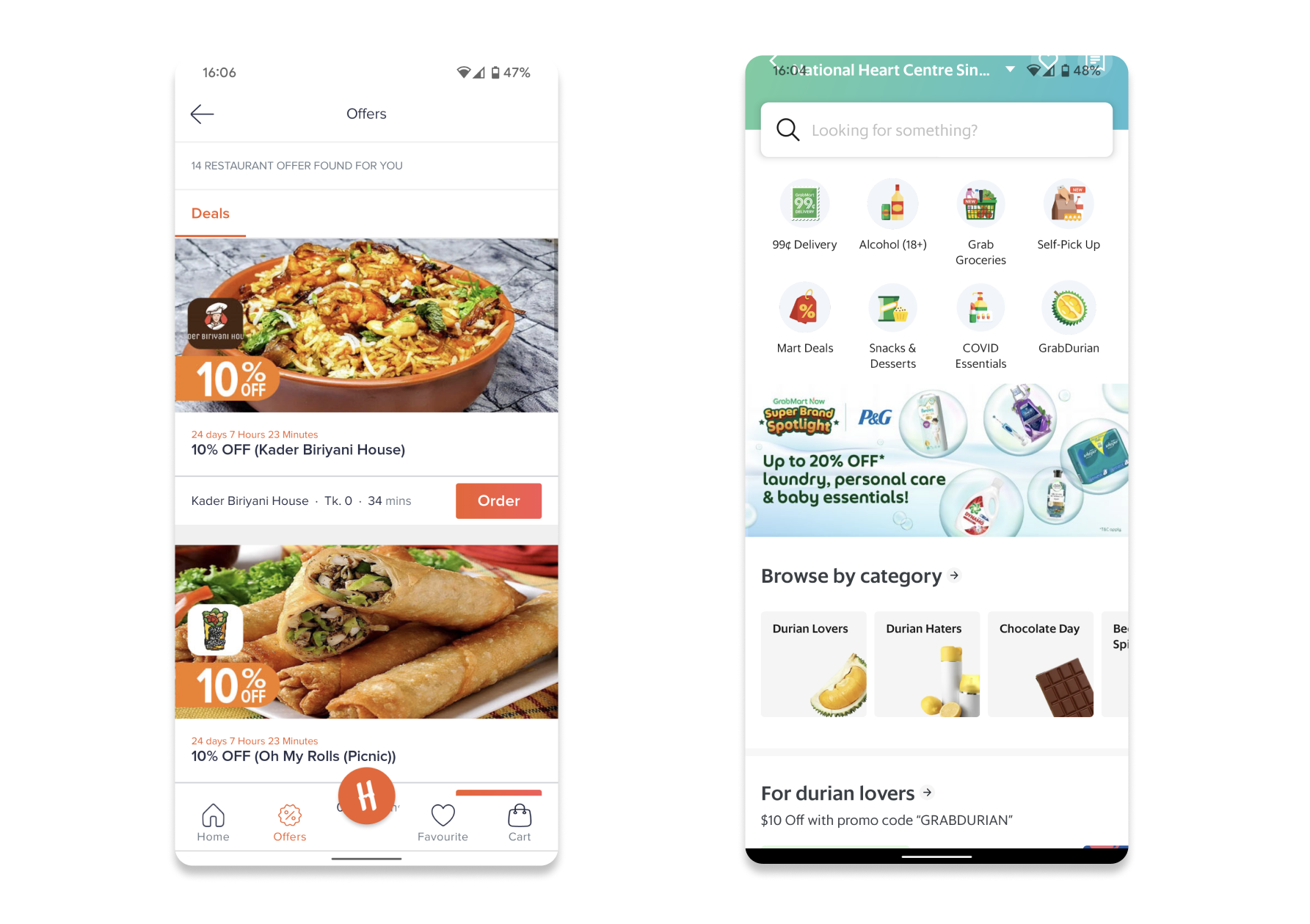 Why don't all e-commerce apps prioritise discounts in design?
It seems like the answer is right under our noses. Putting heavy discounts front and centre is mostly done for a reason: New user absorption and user retention. The apps are probably aiming to onboard more users by offering heavy discounts, and then maintain discounts on particular items the user may buy.
According to me, an average customer in India has two definitions of an e-commerce "company" in mind:
A traditional brand: Normal brand value, quality is expected, service may or may not be good, and end-of-season discounts are expected.
A startup: Users want discounts all the time, quality should be excellent, service should be super efficient (or else we have your Facebook/Twitter page to complain!). Most importantly, they should take back whatever they sold if we don't like it.
On the surface, it seems like this is not true for only India.
From my understanding after having worked on a few international e-commerce apps, the needs of end users in developing countries mostly look like this:
Get things faster and easily
Get things of good quality
Get things for cheaper (offers offers offers!)
These are exactly what apps in developing countries are offering. They entice users by giving them heavy discounts, often filling the full length and breadth of their UI to look like a supermart or 99-for-everything store!
On the other hand, in developed or booming economies, users seem to care about different needs:
Get things faster
Get great quality
Get convenience, even if there's no reduction in price.
This is why I think their apps are designed to show the variety of products they have on offer, rather than focus on discounts. They try to ensure that these products are of high quality since users get what users want!
What are your thoughts on how discounts are treated in the design of e-commerce apps all over the world? Let us know on Twitter!